The Thursday Murder Club is the first novel by Richard Osman, of Pointless and House of Games fame. 'Cosy' and 'murder' are two words that you probably shouldn't find together, but that is exactly how I'd describe this book. If you asked anyone who regularly reads or watches murder mysteries, you'd discover they're a sort of comfort food for the brain. Puzzling little pockets of escapism, often with a picturesque rural backdrop, where readers have the opportunity to solve murders from the safety of their own homes.
If you're a fan of series like Agatha Raisin or Miss Marple you'll feel right at home here. The book combines the mundane life of a quaint retirement village in England with the excitement of a sinister murder. A small group of pensioners use their cunning, charm, and the power of home baking to weasel their way into a murder investigation, and so the escapades begin!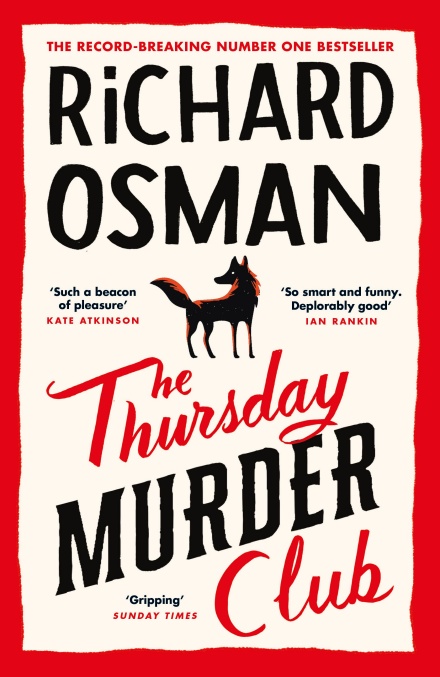 British humour at its best
I've been a fan of Osman's for a while, but as this is his first novel and I only really knew him from the BBC, it was rather unknown territory. He's renowned for his puzzles, so I was looking forward to seeing how he'd handle a murder mystery. Thankfully the book is a pleasure to read and I really enjoyed his writing voice.
I found myself laughing regularly at his very British observations. It's a lot of fun seeing the world through the eyes of his characters, whether it's the satirical figure of property developer Ian Ventham or the more down-to-earth and light-hearted journal entries of pensioner Joyce (who is just excited to be there). The book has the same dry sense of humour that you might find in one of Alan Bennett's, and for me it clicked. The murder investigation itself can feel slow-paced. However, the real draw comes from the characters and their interactions, its humour and its heart.
A cross-generational tale
Of particular note is how Osman handles the topic of generational difference, a key theme throughout the novel. Most of the characters find ways to co-exist in harmony. But there are those who would happily tear down the past for personal gain, and so conflict arises. There is beauty in how the characters reach out to bridge the gap between the older and younger generations. As a result, they find common ground in their humanity even if there are things they admit they don't understand. In short, it's a beautifully human story with an intriguing mystery to solve, and it's perfect for Christmas time. I'm looking forward to future instalments (they're coming!) and maybe even a TV adaptation!
To learn more about The Thursday Murder Club visit Penguin Books.
You can hear more from Richard Osman at: https://twitter.com/richardosman/
WORDS Andy Porter