Local schools have been showing their creativity through the lockdown period, ensuring PE and Physical activity is still on the daily timetable for our children and families.
With many children and parents having to spend more time at home through lockdown, schools have been keen to make sure the lack of a sports hall or gym equipment doesn't mean there are less opportunities to get involved in physical activity.
From toilet roll keepy-ups (remember those), to 'HealthySelfies', PE teachers from the region's schools, and Leads from Cambridgeshire County and Peterborough City Councils, have worked hard to provide varied, interesting and competitive activities – and have seen that parents are every bit as keen to get involved as kids!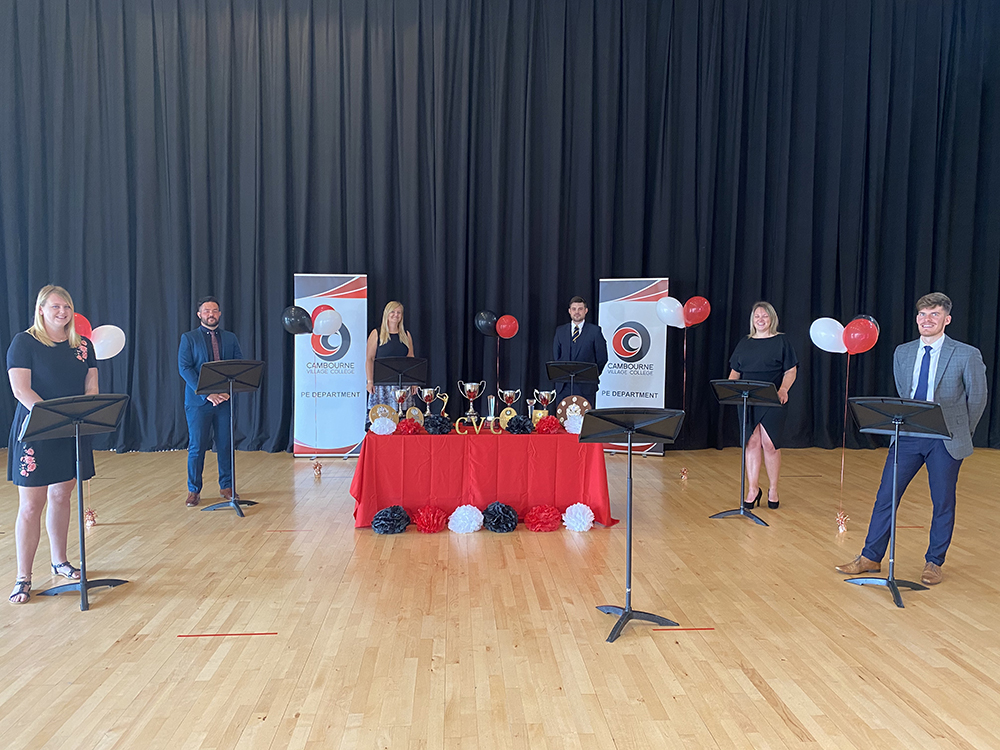 Cambourne Village College, part of the Cam Academy Trust, were quick off the mark back in March, with weekly themed fitness videos soon followed by dance lessons, inter-form competitions and spot challenges – such as how long you can do a chair sit, or having to do a set of activities based on your name.
Hannah Curtis, Head of PE at the school, said: "When we became aware that lockdown was with us for a while we knew we needed to take action, and started thinking fast about how we could keep our pupils engaged.
"We were keen to make sure families and communities could get involved, as well as putting things in place that offered our children and their families some healthy competition against one another, and against the other schools in our Trust. We created activities like our virtual 'Race Around the World' challenge, where we asked pupils from all four schools to log the miles they were walking, running or cycling every day, with each school competing against each other.
"One of our most successful initiatives was the HealthySelfie challenge, where we have encouraged pupils to take photos of themselves when they were outdoors and active. I think our parents have been just as keen to get involved as the children!"
The team at Camborne arranged a Virtual Sports Awards Day, which teachers recording messages before personally delivering trophies to the doors of the winners.
Another school who adapted quickly to the lockdown conditions were Linton Heights Junior School, with Lead Sports Coordinator, Lewis Russell, and his team offering a full programme of online activities, along with distance learning packs for those not in school or with access to the internet. Months of activity culminated in early July in an all-school 'Virtual Sports Day', where pupils were encouraged to record themselves carrying out activities ranging from Teddy Bear Runs to Tea Towel Jumps and Sock Throws.
Lewis Russell said: "When we designed the Virtual Sports Day our priority was to make it accessible and fun – so people could just use everyday things found around the home. Our teachers provided fun demo videos of each activity (which they secretly loved doing), and we set five activities for kids to follow. The response was overwhelming, and we received lots and lot of photos and videos from children taking part – all with smiles on their faces. I'm incredibly proud of the commitment shown of our pupils and their parents/carers, and we are really glad they had fun."
Ian Roberts, Specialist PE & School Sport Adviser for Cambridgeshire County Council and Peterborough City Council added: "The local authorities and our schools really have put the effort in to ensure our children have every opportunity to remain active throughout the pandemic. Physical Activity does contribute to the physical, social and emotional wellbeing of all children, young people and adults ., and we have encouraged everyone to DrEAM – Drop Everything and Move! I feel privileged in my role, because I have rarely seen such novel ideas, particularly in how we deliver activities online. We don't know what the new normal will be in the future, but I hope that the link between health, Physical Activity and wellbeing is not allowed to fade!