Would you jump out of a plane for a good cause? Well you don't have to, because that's exactly what the team at HR Your Business Matters is doing for you on 25th June this year, in aid of Evolve Counselling!
It's been a tough year for all charities, but for mental health charities, the struggles have really only just begun. Local mental health charity, Evolve Counselling, which provides low-cost support to those on low incomes, has seen referrals to their charitable service more than double since the beginning of the pandemic. At times it's reached nearly three times the rate of an average year. But with their corporate income, which usually funds their charitable activities, all but disappearing over the same period, things are pretty tough. And they're are not likely to improve as 2021 progresses.
After periods and incidents of trauma, it usually takes some time for people to start to come to terms with what they have been through and realise that they are struggling to move on. NHS services are already reporting increased waiting times. In addition, there are reports that there aren't enough trained therapists to meet the anticipated demand for the forthcoming year. Evolve has recently provided refresher training in trauma for all of their therapists in preparation for the kinds of issues they are likely to see. But they desperately need more funding.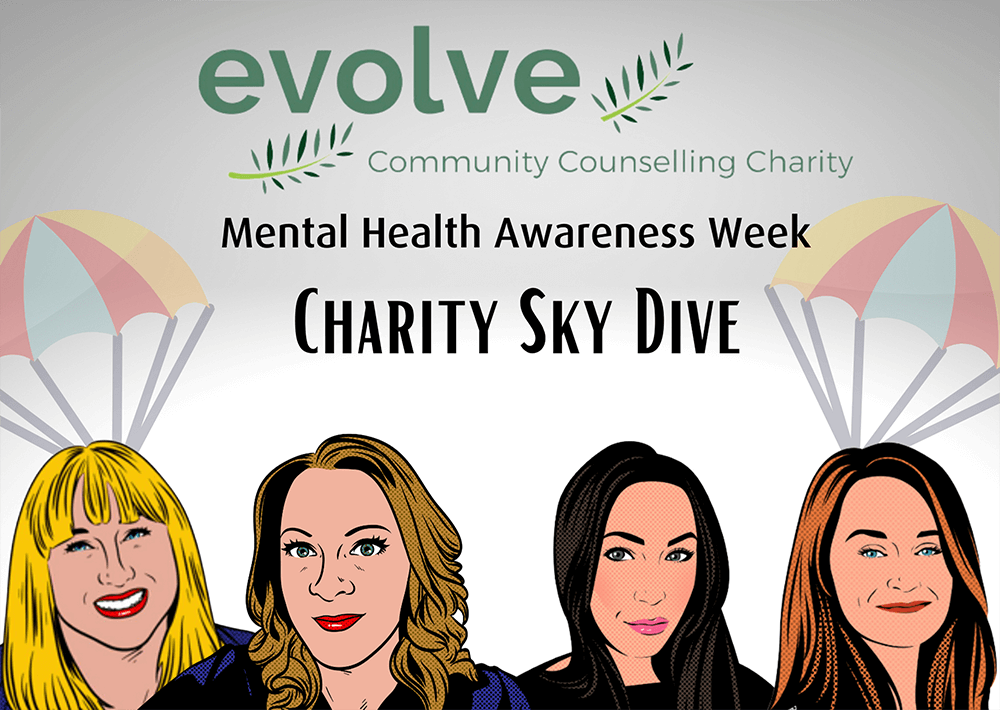 Sponsor the team to jump out of a plane!
Here's where you can help, by sponsoring the brave people as they risk life and limb in aid of others.
Nicki Mawby, head of HR Your Business Matters and HR trustee for Evolve stated, 'The increased awareness around mental health over recent years has been great. However, this alone isn't enough. Unfortunately, most people will experience some level of poor mental health within their lifetime. And we are all likely to know of someone who has suffered poor mental health and seen first-hand just how debilitating it can be, impacting not only their ability to live a normal life, but affecting family and friends closest to them too. A global pandemic, bereavement, financial and health concerns, not to mention the increase in domestic violence and the increasing number of suicides, especially in younger people and men, is heartbreaking. So we feel passionate that we have to do something – even if it is jump out of a plane!
This is an opportunity for everyone to get involved and support us with whatever they can to make a difference. Every pound will help. If we can play even the tiniest part in supporting people to get the help they need, we'll be happy.'
Or why not set up your own JustGiving page to benefit Evolve? https://www.justgiving.com/start-fundraising
You could do whatever you are good at and ask for sponsorship. Running, dancing, singing, sports, tricks, wearing something outrageous, shaving your head…
Or just ask people to help.
Thank you for supporting Evolve Counselling. Find out more about them at www.evolvecounselling.org.uk