Last month we reviewed some exciting developments planned for Peterborough. Now it's time to look at a few examples of what's planned for towns in Fenland in terms of investment and regeneration, as well as improved travel options.
The theme of much of these developments is Covid recovery. Fenland District Council (FDC), town councils and other authorities are all working to get the local economy back on track as travel, business and leisure restrictions ease.
Wisbech High Street redevelopment
There is concern about the future of the country's high streets, especially with many retail businesses severely affected by covid restrictions. But in Wisbech at least, there is reason to be optimistic about what lies ahead. The National Lottery Townscape Heritage scheme is making possible a number of regeneration schemes in Wisbech, including on the High Street, through FDC's Wisbech High Street Project.
The schemes include work on new shops and flats at 11-12 High Street, following the recent completion of structural demolition at the site. The council purchased the site in 2018 to save it from further dilapidation and return it to use. There have also been grants recently secured for improvements at 18 High Street and 13-17 High Street. In addition, there has been the announcement that plans are being drawn up for a major redevelopment at 'The Gap' at 24 High Street.
Town centre regeneration in March
A grant of £6.4 million from the government's Future High Streets Fund (FHSF) was announced on Boxing Day 2020. The grant will be added to funding from the Cambridgeshire and Peterborough Combined Authority (CPCA) Market Towns Programme. Objectives include making high street areas in March more accessible by 'greener, safer roads and better public transport', and helping the town to recover from the pandemic.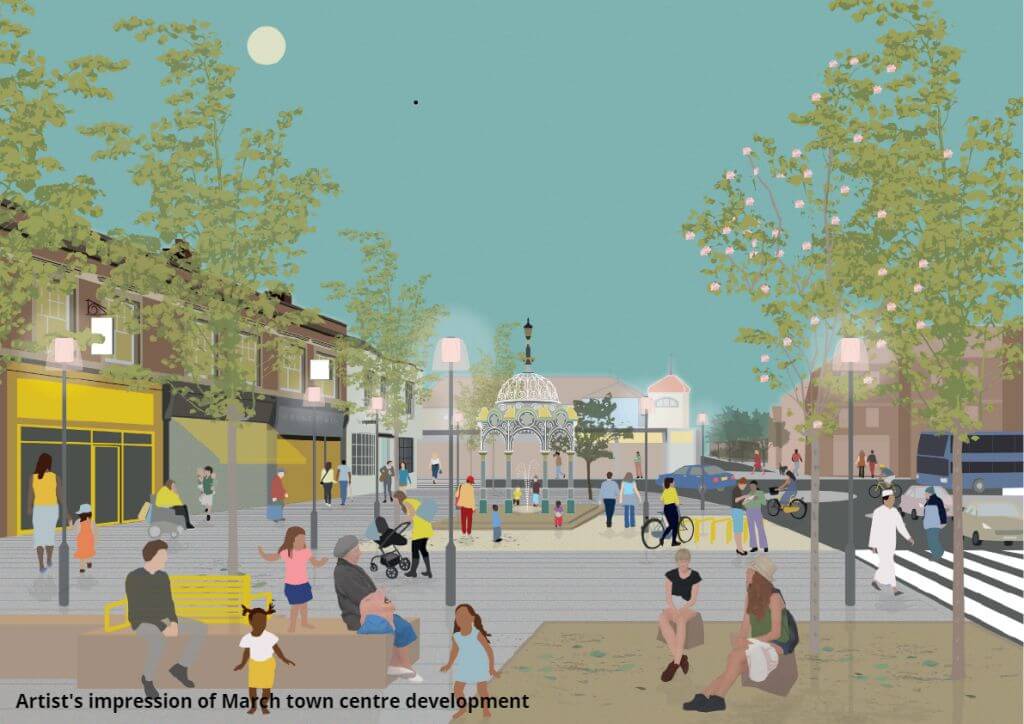 The investment will:
Transform Broad Street, with more pedestrian space, less traffic, better cycle access and an improved shopping experience.
Integrate the riverside areas into Broad Street, to improve visibility and access.
Improve Market Place, with more space for markets, events and performances.
Regenerate the Acre Road area into an attractive, multi-use development.
Bring vacant retail units back into use to attract more shoppers into the town.
FDC's Growing Fenland March Town Team, CPCA, March Town Council, the community, and external consultants have all helped to design the improvements.
Investment in Whittlesey
Whittlesey is also benefitting from new investment. Work on a new road crossing the railway line at King's Dyke is advancing well. This will reduce delays on the A605. Other investment in the town is coming from CPCA's Market Towns Programme. This programme is putting up the £1 million required to implement the Whittlesey Growing Fenland Masterplan Project. It will be used for several initiatives in the town.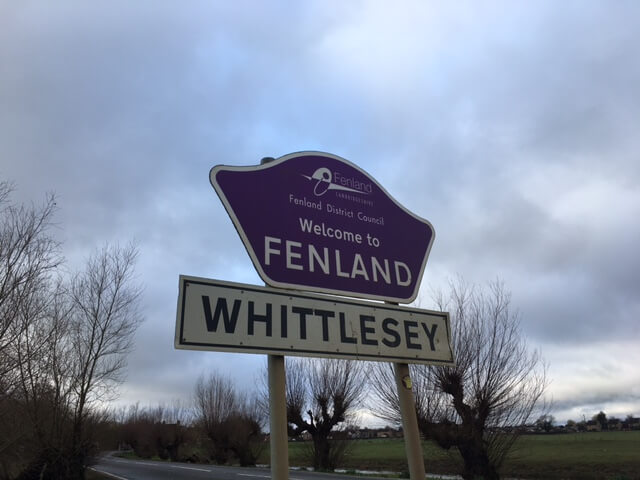 A £57,500 scheme will install interactive signs to inform drivers when local roads are closed due to flooding or roadworks. With the North Bank and B1040 both closed frequently during the winter months, improved signage will help locals to plan their journeys. The signs are due to be installed in summer 2021.
Half a million pounds has been made available to build a Whittlesey Heritage Visitor Centre on a site adjacent to the Kings Dyke Nature Reserve. Visitors will be able to see local artifacts and explore the history of Whittlesey. The town council are managing the project and have invited local architects to submit designs for 'a stunning eco-friendly building'. Complementing the Heritage Visitor Centre will be a new Whittlesey Heritage Walk. This will have bespoke signage and an app guiding users on a journey through places of historical interest.
Improving sustainable travel in Fenland
Work has started on developing initiatives to improve cycling, walking and mobility access in Fenland. FDC is developing a new strategy, in the hope of building on the increase in sustainable travel seen during lockdowns. Funding is from FDC and the Hereward Community Rail Partnership, with a focus on improving access to schools, colleges, workplaces and railway stations.
Cllr Chris Seaton, FDC's Portfolio Holder responsible for transport and social mobility, said, 'We are committed to supporting more people to make sustainable travel choices, which have huge benefits for our health and well-being, the environment and for future generations.'
FDC recently ran an engagement survey to give residents, businesses, and community groups an opportunity to share their views. This will lead to a draft strategy, which will be made available for public comment before a final version is presented to councillors in late summer 2021. FDC say that having a clear strategy and list of improvement plans in place will then strengthen its ability to secure further funding.
A boost for rail travellers in the Fens
There certainly seems to be a real push to get more of us travelling by train in Fenland. Schemes are being delivered through FDC's Railway Station Masterplans project, with £9.5 million of external funding.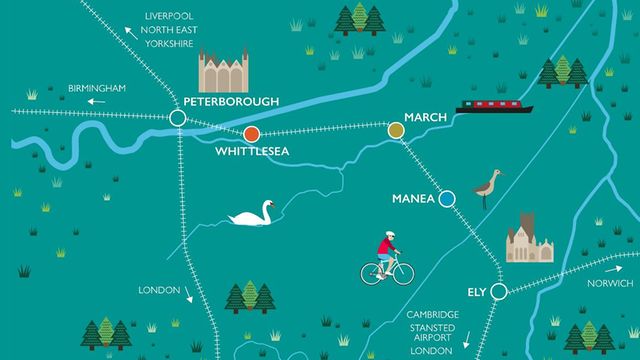 New waiting shelters have already been installed at Manea and Whittlesea stations. There is also an improved passenger footpath and lighting at Whittlesea. Other works include the following:
By September 2021, Manea station should have a 112-space car park with new bicycle parking. A bus turning and drop-off area is also expected.
March station will see car park improvements and a redesign of the buildings on platform one. Construction is due to start in June 2021 and completion expected in November 2021.
Further improvements are planned for Whittlesea station, including a level crossing upgrade.
I for one will be sure to make much more use of our railways once travel is less restricted than it has been in recent months. Looking out the window as the Fenland landscape rushes by is a lovely thing, especially knowing that travelling by train has less environmental impact than driving everywhere.
WORDS Richard Groom