Just outside the village of Barnack, way up in the top left corner of Cambridgeshire, is a wonderful, peaceful place to walk and enjoy nature. But once, it was a whirling hive of industry that created the building blocks for some of our region's finest buildings.
Hills and Holes has thousands of years of history and secrets. But when you visit and walk up and down its undulating grassy surface, created by centuries of limestone quarrying, all that matters is that it's a unique landscape of, well, hills and holes.
We used to go there as kids in the early 70s, running up the hills and rolling and tumbling down them, screaming and giggling as we went. This was a magical children's playground like no other. At the time, everyone called it Hills and Hollows (or 'Ills 'n' 'Ollers as we pronounced it). Many locals still do.
Nowadays the site has a different feel, with visitors encouraged to stick to the miles of footpath that crisscross it. That's fine with me, as is the change of name to Barnack Hills and Holes National Nature Reserve. Its position as a nature reserve, Site of Special Scientific Interest and Special Area of Conservation gives protection to the orchid-rich wildflower grassland.
An abundance of wildlife
Natural England manages the site with help from local volunteers and the Langdyke Countryside Trust. This management is important, because the 57-acre site is home to about half of the total limestone grassland in Cambridgeshire. It's a habitat that hosts over 300 kinds of wild plant. You can find the rare pasqueflower, more commonplace violets and cowslip, and at least eight species of orchids. Visit in the early summer especially and you will see swathes of pink, blue, white and yellow flowers.
Many species of insects and butterflies, including the uncommon marbled white, chalkhill blue, brown argus and green hairstreak, and other wildlife also have a happy home here. You can even see glow-worms on warm summer nights.
Building blocks of history
The removal of huge quantities of limestone left the holes that we see today. There was a quarry here as long ago as Roman times. But it was in the Medieval Period when quarrying was at its peak. Stone from the site was used to build Peterborough, Ely and Norwich Cathedrals, Ramsey and Crowland Abbeys, and many churches in the eastern counties. When you visit Hills and Holes, stop by the church of St John the Baptist in the village to see what Barnack stone looks like, as the church was made from stone quarried nearby.
The quarry in these times was much bigger than today's site. It extended as far as what is now the village of Barnack and was a mammoth operation. Thousands of people were involved in extracting, shaping and transporting the stone, known as Barnack Rag. Flat-bottomed barges transported the huge stones, initially along the nearby Welland and Nene rivers, and then along other waterways and even the sea around the coast.
Moving such huge stones by water was not without its problems. Visit Holme Fen Nature Reserve and you'll find a few limestone blocks from Barnack that were transported by boat across Whittlesey Mere. At that the time it was a huge freshwater lake. The boat sank, and the stones lay at the bottom of the mere until they were revealed when the area was drained a few hundred years later.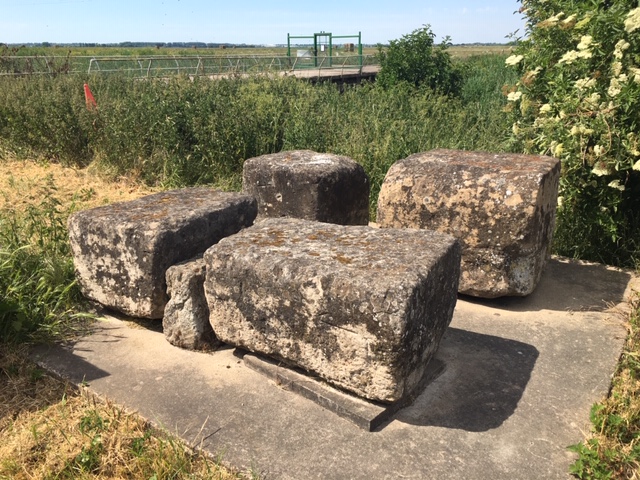 A place for everyone
A well-marked 'limestone walk' of just under a mile runs around the perimeter. Alternatively, just clamber up and down the hills in any direction you like. You may get lost, but head to the edge of the site and you'll soon find your way back.
Dogs are welcome and you can usually let them off their leads if they are well behaved. I'd encourage you to keep them on a lead or under close control when the wildflowers are in bloom, however. Also, a flock of sheep is often grazing in a fenced-off area as part of the site management programme; please take note of this and keep your dog out of that area.
On the autumn morning I visited Hills and Holes, there were several individuals, couples and families enjoying the site. A red kite hovered above, looking for its breakfast. There was a lovely feeling of peace and calm, especially welcome in difficult times. It reminded me what a wonderful place it is, and I'll be sure to return many times.
WORDS Richard Groom