Dr. Raja Akhtar
BMedSci, BDS, MFDS RCSEd
Dentistry
GDC Reg no. 244777
Raja pursued his dental qualification at Peninsula Dental School which is based in Devon and Cornwall. This enabled Raja to provide treatment across a wide variety of patients and allowed him to cement his dental career (as well as enjoy the beautiful scenery!).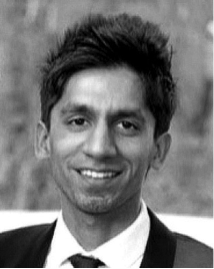 Born and bred in Peterborough, following the completion of his degree Raja returned home to work in dental practices in and around the local area. Raja has also previously worked for the Community Dental Service providing urgent care which has allowed him to become experienced in dealing with patients experiencing extreme pain and anxiety. He has also completed a period of training in some oral and maxillofacial surgery at Addenbrooke's Hospital, where he was involved in the care of patients with head and neck cancer, facial trauma, and cleft lip and palate.
A firm believer in prevention and minimally invasive dentistry
Raja is a firm believer in prevention and minimally invasive dentistry. He actively pursues this approach with all his patients to enable a sense of shared responsibility of their oral health.
Raja is progressive and has completed further examinations, leading to becoming a member of the Royal College of Surgeons Edinburgh. In addition, he likes to keep up to date with all areas of general dentistry. He regularly attends courses nationally as well as through online platforms and is actively looking to pursue further interests within those fields.
Outside of work, Raja loves to socialise with family and friends. He is an avid football fan and tries to watch Liverpool FC as much as he can, and he tries to recreate and emulate those same skills when he plays 5-a-side football.
Zoe Andrew
Dentist
GDC reg no. 264165
Zoe Qualified from UCLan School of Medicine and Dentistry. She enjoys all aspects of general dentistry and has a kind, caring approach to all her patients. She particularly enjoys minimally invasive dentistry, root canal treatments, and smile improvements including tooth whitening.