Back in July of this year, while we were (rightfully) concerned about the effects of Covid-19 on humanity, the British hedgehog slipped into the International Union for the Conservation of Nature's (IUCN 2020) Red List for mammals. It wasn't a huge shock for the organisations responsible for bringing awareness to this prickly garden favourite. In fact, it's partly thanks to research by the British Hedgehog Preservation Society (BHPS) that we can chart their demise. But the new vulnerable status can be a positive. It can give campaigners more ammunition to campaign for better protection of habitat, and it can make the public consider the impact that the changing environment has on the species that rely on them.
What's caused the hedgehog emergency?
In the early 1990s, Dr Pat Morris at Royal Holloway, University of London, recruited volunteers to record hedgehog road casualties. This was a way of monitoring the population in the wider landscape. Ten years later, the People's Trust for Endangered Species (PTES) relaunched the survey. The surveys showed regional differences and indicated a decline in the population. The most recent analysis shows a huge difference between rural and urban populations. This both offers hope and highlights the need for greater conservation efforts.
Surprisingly, the results indicated that hedgehogs fared better in urban areas, but why? First, the intensification of agriculture in more rural areas reduces the quantity and quality of hedgehog habitat. Larger fields and the loss of hedges and copses have resulted in fewer nesting sites. A second important factor is the reduced amount of prey available. Earthworms and slugs make up a large part of the hedgehog's diet, but these can be scarce in agricultural soils.
Another big factor in the rural decline of hedgehogs is the number that are injured and killed on the roads. Rural areas tend to have higher speed limits and reduced lighting, which means drivers are less likely to spot wildlife. Nationwide, it is estimated that around 100,000 hedgehogs are killed annually.
How modern living is affecting the hedgehog
That doesn't mean that hedgehogs are living abundantly in urban areas. In fact, fewer places are recording them today than they did 15 years ago. British gardens are becoming poorer homes for wildlife, with increased paving and decking and reduced plant life.
'Hedgehogs are becoming more vulnerable, because we keep putting up walls, blocking up fences, ripping up hedgerows and bushes, and laying tarmac everywhere," explained Nick and Shelley, co-founders of Peterborough Hedgehog Hotel. 'It's our constant decimation of the natural world that is leading to the decline of this and many other species.'
And in some cases, it is our own gardening causing the problems. 'More gardening has unfortunately resulted in some horrific injuries. we cannot stress enough the necessity to check the area you'll be working in to prevent catastrophic damage to wildlife.'
What can we do to help?
In 2011, PTES and BHPS launched the Hedgehog Street campaign. This was designed to reverse the decline by inspiring the British public to help protect the hedgehogs. They recruited 47,000 Hedgehog Champions to help conserve them. Their aim is to improve urban areas by encouraging more:
Gardens and green spaces, linked with 'Hedgehog Highways' in fences
Wild areas and log piles in gardens for insects and other wildlife
Hedgehog houses and feeding stations in gardens.
Organisations like these are also putting pressure on developers and landowners. Chris Grayling MP, Secretary of State for Transport, has been appointed as the Species Champion for hedgehogs to help promote their conservation in Parliament. A ten-year strategy is in place for national hedgehog conservation until 2025.
But we cannot sit back and wait for legislation to change. We all have a responsibility to protect our wildlife and local habitat.
Feeding hedgehogs
'The easiest thing to do to help the humble hog is to leave out a dish of water,' Nick and Shelley added. 'And just water, not milk, as was told to people years ago; hedgehogs are lactose intolerant. Leave part of your garden wild to promote bugs and insects, the natural diet of the hedgehog. Create a hedgehog highway and encourage your neighbours to do the same, so that the animals can travel and access multiple gardens and areas. A hedgehog house is a great addition to a garden and can be purchased or made easily, with free DIY plans available online.
'Support feeding is encouraged, but only with an appropriate food, such as Spikes or Brambles. We've found one of the best foods for hedgehogs is also the cheapest – a supermarket own-brand kitten biscuit (Tesco specifically). You should not give hogs given sunflower seeds or hearts, mealworms, calci worms, peanuts, fruit or veg. You can also set up a feeding station. Essentially, this is just a shelter over the food to prevent others from gaining access. In addition, it can help to make hogs feel safer.'
Spotting a hog in trouble
Hedgehogs are nocturnal, so if you do see one out in daylight, it could be a sign of distress. Here are a few signs that your hedgehog might be in need of help:
Lethargic – hedgehogs don't sunbathe!
Flies – if there are lots of flies around the hedgehog, it needs help
Wobbly
Injured
Trapped – hedgehogs can get caught in netting, a pond, a drain, etc.
Hoglets – these shouldn't be seen on their own in the day
If you see any of these signs, you should pick up the hedgehog with gardening gloves and pop them in a high-sided cardboard box. Bring the box inside away from flies. Keep it in a quiet room away from pets and children. As long as there isn't any blood, you can use a towel to keep it warm. You can also offer it some hedgehog food, or meaty cat or dog food, and some water. Call the British Hedgehog Preservation Society on 01584 890 801 for your local hedgehog rescue volunteer. You can also look online at help wildlife.co.uk/map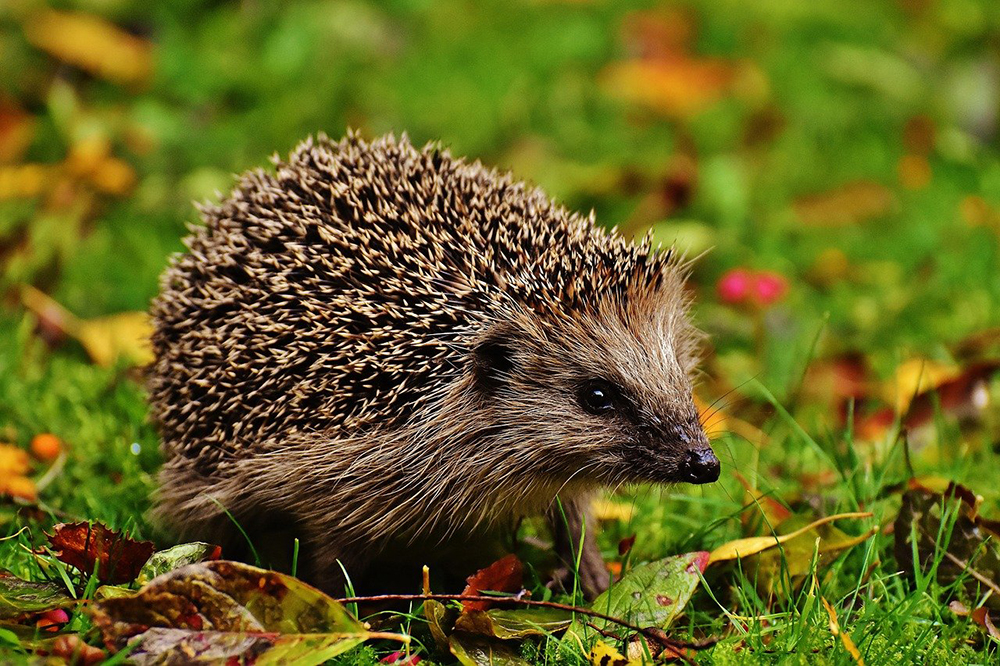 Winter for the hedgehog
November can be a tricky time for juvenile hedgehogs. These are ones old enough to be away from their mothers, but too small to hibernate. The autumn juvenile season usually begins as early as September and is busy until the end of November. However, some will struggle on, and you may see the occasional one from December through until April.
So what can you do if you have a prickly visitor during these months? If you have a regular hedgehog visiting your garden, which is only seen at night, appears active, and you are able to feed it, then it can be left in the wild. However, if it appears unwell or in difficulty (see list above), then it needs help as soon as possible. Even if your hedgehog is appearing lively, if it is coming out during the day, then it probably will need rescuing in autumn/winter. If you are in doubt, call a local rescue centre or the BHPS for advice.
Most hedgehogs will have spent time during the autumn creating winter nests made from leaves, grass, straw, bracken, reeds, etc. They tend build them under hedgerows, fallen logs, or piles of brushwood. In your garden, you might find them under sheds, compost heaps, shrubs, and piles of leaves. Alternatively, you can purchase a permanent hog structure, such as a hedgehog house. Whether you are buying or making a house, it's important that you place it in a quiet part of your garden. Ideally, place it against a bank, wall or fence. Make sure the entrance doesn't face north or north-east, thus avoiding the cold winter winds.
For further information on ways you can protect hedgehogs, please click here.
With thanks to the British Hedgehog Preservation Society and Nature of the Fens Facebook group.
This article has been reproduced by courtesy of The Fens magazine. Click here to view more of their articles.