A fantastic local winter festival isn't letting Covid-19 stop the fun. Organisers of Straw Bear 2021 are keeping the music going with online concerts this month.
The 2021 festival will maintain a long and healthy tradition. You can trace Straw Bear back for 100 years or more. Farm labourers around Whittlesey typically found themselves out of work in the bleak winter months. Money was scarce, so they came up with a creative way to bring in some pennies.
One of the farmhands would dress up as a Straw Bear and would be led around Whittlesey by his mates. The group would sing and dance their way around town. In return for being entertained, the townsfolk would give them a few pennies and something to eat.
It was one of many traditions along these lines across the country. You'll find stories of singing, dancing and dressing up in winter in rural communities everywhere. They all did much more than raise some income: they brought light and fun into a dark and miserable time.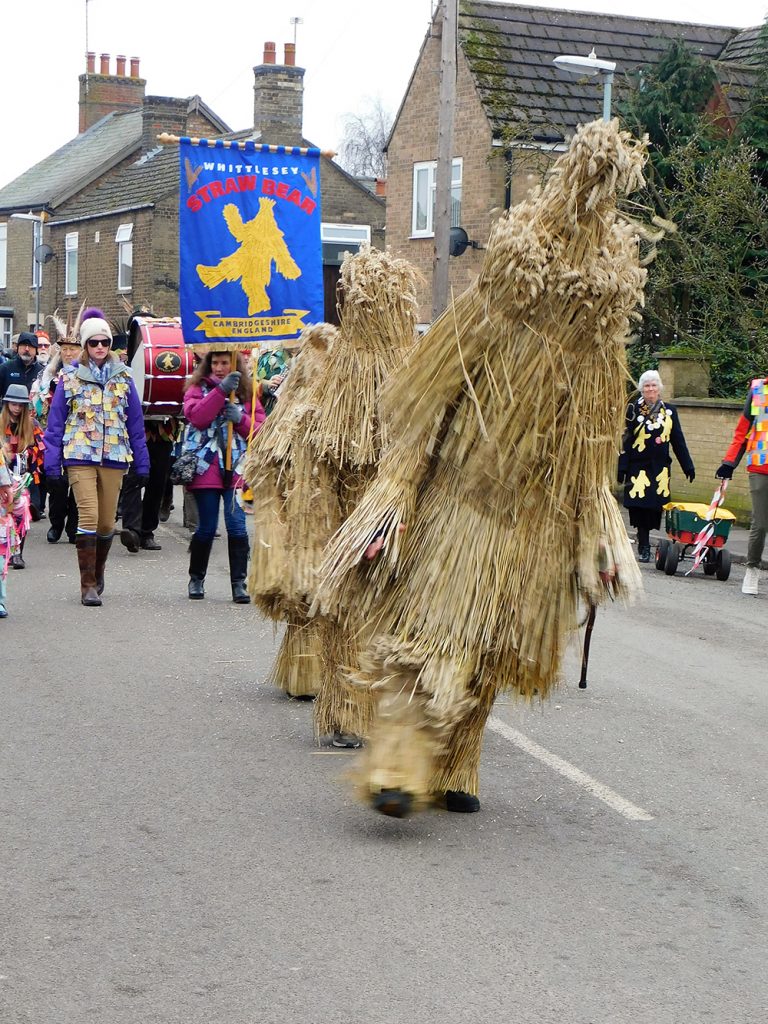 Bringing back Straw Bear
The Straw Bear tradition died out early in the 20th century, most likely because a local policeman grew tired of the excessive drinking that the farmworkers did as they went on their (very) merry way. He also saw the requests for money as 'cadging'. Thankfully, the lovely people of Whittlesey brought it back to life in the 1980s, and it's grown bigger and better over the past 40 or so years.
The main day of Straw Bear Festival is always a Saturday in early January, with Whittlesey packed with crowds. The streets are closed to traffic and thronging with excellent folk dance and music groups from across the country. And, of course, the Straw Bear (and Little Bear) are led around the town.
Online for 2021
So it was a real shame to hear that the 2021 festival was cancelled due to Covid-19. The decision to cancel was taken quite early into the first national lockdown. Some people felt this was premature, but the organisers pointed out the huge amount of time, effort and cost involved in putting the festival together.
They have been proved right: it is certain that the festival would not have been able to go ahead given present circumstances.
But Straw Bear is too good a thing to disappear altogether, and the organisers have worked flat out to deliver what will certainly be a superb online experience for 2021.
There is a great programme of events running from 15-17 January. The organisers promise 'a weekend of music and dancing' and they are delivering on that promise. Throughout the event there will be online music sessions, interviews, archive Straw Bear footage and more.
It kicks off with an opening concert on Friday 15 January featuring performances from Granny's Attic, Tim Van Eyken, Jackie Oates, Brown Boots, Barry Goodman, Frog on a Bike, Ady Bull and Brian Kell.
Then on Saturday 16 January there will be a Zoom Ceilidh/Barn Dance with Doug Eunson, Sarah Matthews and caller Martyn Harvey. Go online and dance the night away at home.
Martyn will explain and guide you through the dance moves, while Doug and Sarah provide the music. I live alone so don't have a dance partner (I know, tragic) but I may rope my cocker spaniel into things. He'll do just about anything for a biscuit and a tummy rub.
Follow the Bear on YouTube, Facebook and Zoom
Most of the festival events will be broadcast on YouTube, Facebook and Zoom. If you have managed to get through 2020 without attending any live events online, why not give it a go? Whether it's via your phone, tablet, laptop, PC or smart TV, it's easy to get into the action.
For full details on how to see the events, please visit www.strawbear.org.uk or follow the Bear on Facebook or Twitter.
Please support Straw Bear and the local community
The festival organisers have raised thousands of pounds for local charities over the years. Much of this is through street collections and merchandise sales at the festival. It's such a shame that this isn't possible in 2021.
The festival organisers are, however, very mindful of this and will be putting out links to places where you can donate money. Collected funds will be distributed to the Whittlesey Mayor's charity of choice. They are also very aware that the artists playing at the virtual Straw Bear have been hit hard financially by Covid-19 and will be raising funds for them, too.
WORDS Richard Groom PHOTOS David Bailey