Under an exhilaration of vast skies, rolling grasslands and shining waters, the visionary landscape of the Great Fen is now twenty years into its 100-year vision, recreating long lost precious Fenland habitats via the carefully controlled raising of water levels and rewetting of peat soils vital for capture carbon. This evolving watery haven for rare fenland species is a new green lung for the ever-burgeoning populations of the county.
Fitting in with the overall vision, an ambitious two-year project, Water Works, is pioneering ways to develop a more sustainable future for fenland resources – its soil, water and people – which could change the mind-set of a generation, as well as achieve positive action against climate change. With £1m of funding from the People's Postcode Lottery Dream Fund, the project is exploring new ways of 'wet farming' or paludiculture, and is now into its second year, despite a six-month hiatus due to Covid-19.
Trials are about to get underway (in specially prepared planting beds which have taken months of planning and creating) of growing novel crops – new grains, rushes, grasses and mosses which 'like to get their feet wet'. One of the stars of these is sphagnum moss – a really fascinating plant with a long history …
Sphagnums are a group of beautiful mosses that grow naturally on bogs in the UK. It's an amazing plant whose special qualities could be one of the answers to climate change – sucking up gases released from farming.
These simple plants have lots of tiny pores that suck up water from their surroundings: the moss gathers moisture from the air in misty weather, collects rainwater, and draws up soil water to where it is needed. As well as absorbing ten times more fluid than the same volume of cotton wool, they are naturally antiseptic and were used in bandages and nappies during World War 1.
Once it grows into a continuous lawn, sphagnum can outcompete weeds and doesn't need fertiliser; the soil beneath is protected by remaining moist and, as the sphagnum grows, it can trap additional carbon and actually grow soil. One of the other key benefits of this moss is that you can harvest the top (it grows right back) then dry and mill the harvest to create a substitute for peat compost for growing seedlings. This means growing our own 'compost' for vegetable producers and horticulturalists to use – preventing peat from being harvested from wild, natural bogs and wetlands and transported from as far away as New Zealand or China.
Sphagnum is a contender for the longest-lived plants on the planet. Each strand of moss grows ever longer, with the bottom turning slowly into peat. As many of our bogs have been forming since the ice age, some of the individual strands may have been alive for as long as 8,000 years.
As planting gets back underway this month after a long pause since March, the first bed of nine will be filled with bulrush – an amazing, super-hungry plant which will strip the incoming water of impurities and feed clean water to the rest of the beds. This crop can be turned into fuel, building materials, animal feed and cavity wall insulation. The other beds will then be planted with reeds, future grain crops, and flowers which could be the next thing in medicine or flavourings – think tasty beer or a new gin botanical! There will be eleven novel crops: fenland species which have had a variety of uses in the past and have future potential. Food – watercress, wild celery, bilberry and water mint; flavourings – meadowsweet and bog myrtle; and medicinal uses – comfrey, gypsywort, lady's smock, yellow flag and hemp agrimony. A socially distanced army of nimble fingers will be busy this autumn planting in all the plugs and seedlings which have been held in various nurseries at sites across the country – some 200,000 plants were in the process of being propagated or were ready for delivery for planting.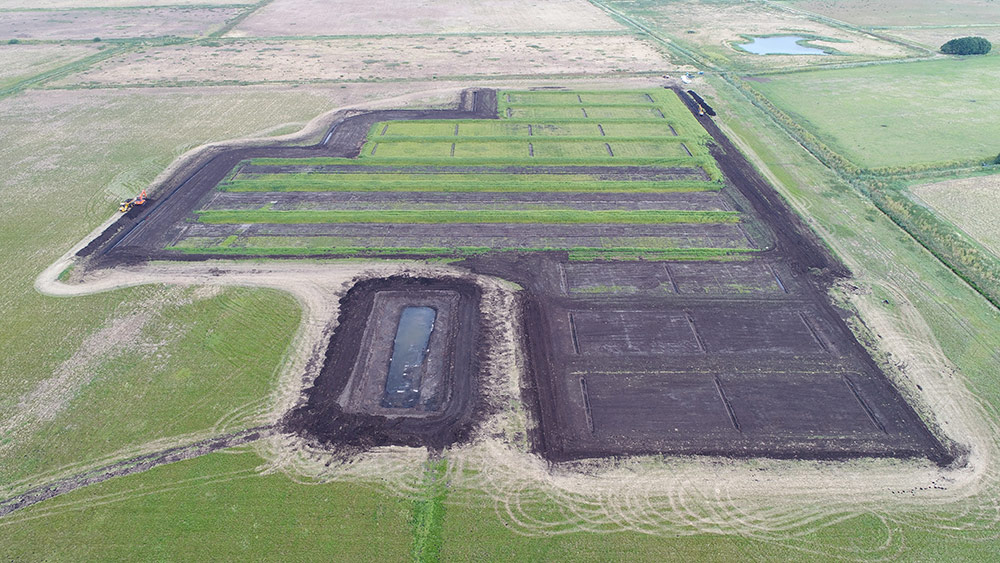 The two-year Water Works project involves partners University of East London, experts in wet farming, and climate change experts at the UK Centre for Ecology & Hydrology, who are producing site-specific data to demonstrate carbon capture in this real-life setting (with paludiculture and nature conservation as the driving forces behind re-wetting.) Such data will be key in creating an evidence base for lowland peat carbon trading in the future.
Fens Biosphere
As part of the Water Works project, Cambridgeshire ACRE is spearheading a movement to create a UNESCO Fens Biosphere, a global accolade which recognises the unique character of the Fens and its people, shares learning and supports development through harnessing all sectors of society to work together to achieve sustainable outcomes – read more here www.fensbiosphere.org.uk/