School reading volunteers are going to be needed desperately following the coronavirus pandemic. Thousands of children won't have had enough reading practice during lockdown. In a typical year, one in four children leaves primary school unable to read well. Most children will have missed a term of school, so the reading gap will now be even wider. Children who struggle with reading are more likely to live in poverty and be unemployed as adults.
Schoolreaders needs more volunteers in your area to support children's reading and prevent them falling further behind. If you want to make a difference to a child's life, apply to become a Schoolreader. You don't need any qualifications, just a love of reading and some spare time each week.
A Schoolreaders volunteer's time can be enough to transform a child's school life. An ability to read ensures they get the most out of their education and enables them to explore new worlds of knowledge, inspiration, creativity and fun.
If you would like to become a Schoolreader, members of our Operations Team are on hand to register you and match you to a local school that needs your help. Subject to Government advice on Covid 19, the school will welcome you into a classroom where more children than ever need reading support. Please read on to find out more.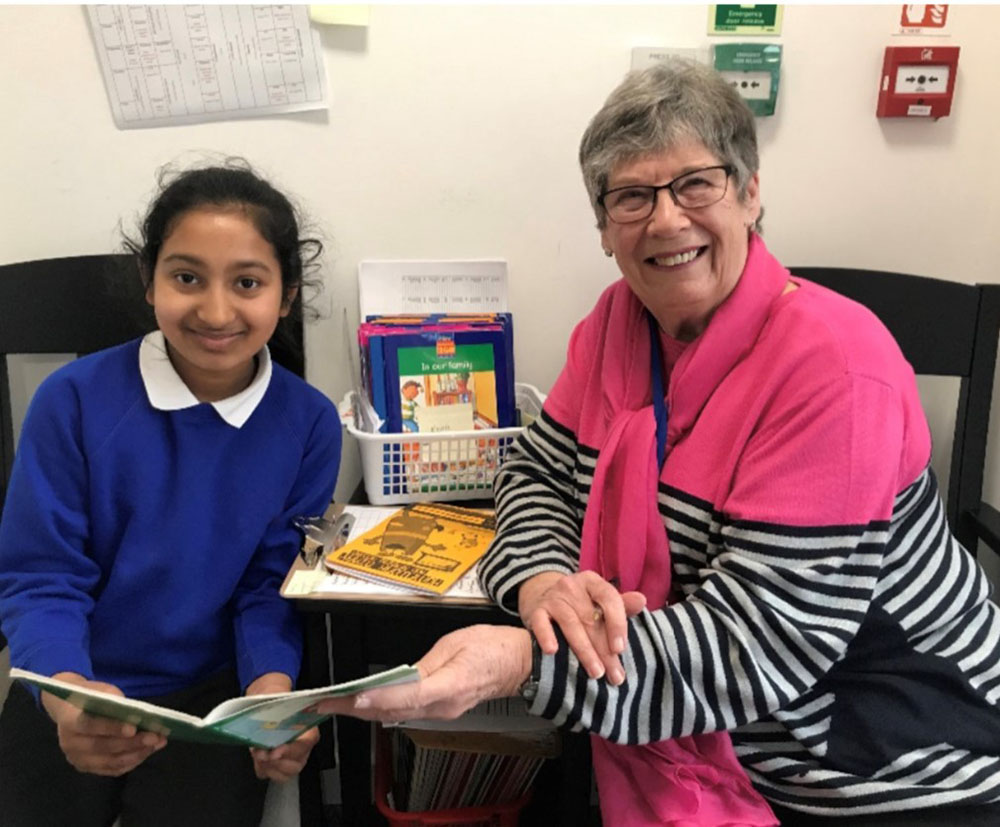 What do I need to become a Schoolreader?
If you have some time to spare, a good grasp of written English, and you enjoy spending time with children, you could become a school reading volunteer. We do not ask for any particular educational qualifications. Our volunteers are drawn from all walks of life and range in age from 18 to 92. Our school reading volunteers get enormous pleasure from seeing the difference that a few hours of their time can make to a child's reading ability, confidence and enjoyment.
We do request that you commit to a minimum of a year's volunteering during term times. We will require you to agree to our Code of Conduct and have a DBS (Disclosure and Barring Service) check carried out. Click here to find out more about the DBS.
Starting the process
So how does it work? To start with, you need to fill in our application form, either online or by post. Once we receive this, we will invite you for an interview, either by telephone or in person.
On successful completion of this stage, we will take information from you regarding your availability, the distance that you can travel and any other personal requirements. We use these to find the 'best fit' of school for you.
​​What next?
Once we have identified a school suitable for you, we will contact you to see if you are happy with the match. If you accept, the nominated school will contact you to arrange a mutually suitable time for you to visit. We will send you a help sheet so that you know what to expect at this first meeting. Usually, they will give you a tour of the school, start the process of your DBS check, and introduce you to staff and children. The school will then be in direct contact with you regarding a convenient start date.
Schoolreaders will keep you informed at every stage of the application process. Your Schoolreaders contact will remain available to support you and answer any queries on an ongoing basis.
​​The joining process is simple, and we will make every effort to get you started as soon as both you and the school are ready.
Charity Number: 1159157
To join us, please visit the website www.schoolreaders.org/volunteer-application-form or call 01234 924111 for further information.