Now that winter is creeping in, I decided to bake something warm and comforting to help keep the long cold nights at bay. I paid a visit to Kemp's Fruit and Veg shop in Yaxley for some inspiration. I already had apples and chestnuts on the mind for a wintery crumble but was excited to find fresh unpacked dates for sale too. There was a wide selection of local produce available, with many varieties of apple (including some rather enormous cooking apples), and with some enthusiastic customer service, I was able to select my ingredients. I ended up coming home with a big bag of apples and some lovely loose Italian chestnuts and dates for my Toffee Apple Crumble recipe.
Additionally, there were some more unusual fruits available, such as prickly pears and Chinese Ya pears. I love Korean cooking and have used Ya pears in marinades in the past, so it's definitely good to know I don't have to travel too far for them in the future!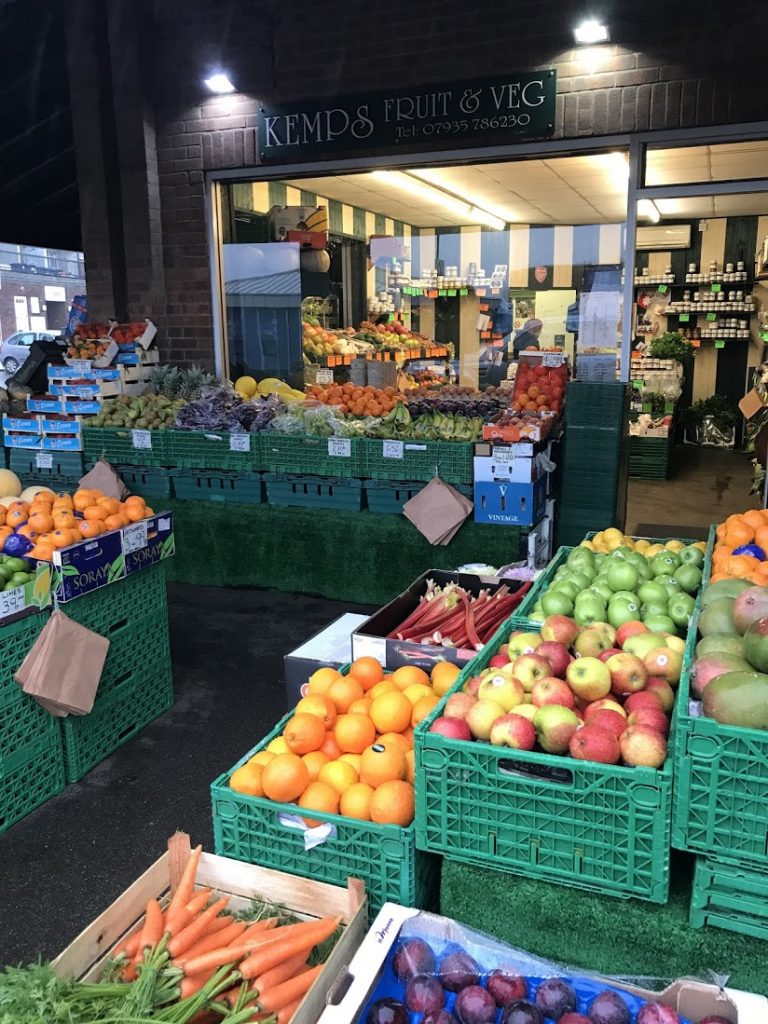 Toffee Apple, Date and Chestnut Crumble
Even if we are stuck indoors this November, you can still have a little toffee apple magic at home in the form of this Toffee Apple Crumble Recipe. I find roasted chestnuts taste like sweet nutty popcorn, and when used in crumble the toasty flavour really adds depth to the rest of the dish. I served the crumble with a thick vanilla cream, but this is optional. Regular cream, ice cream or custard are just as delicious!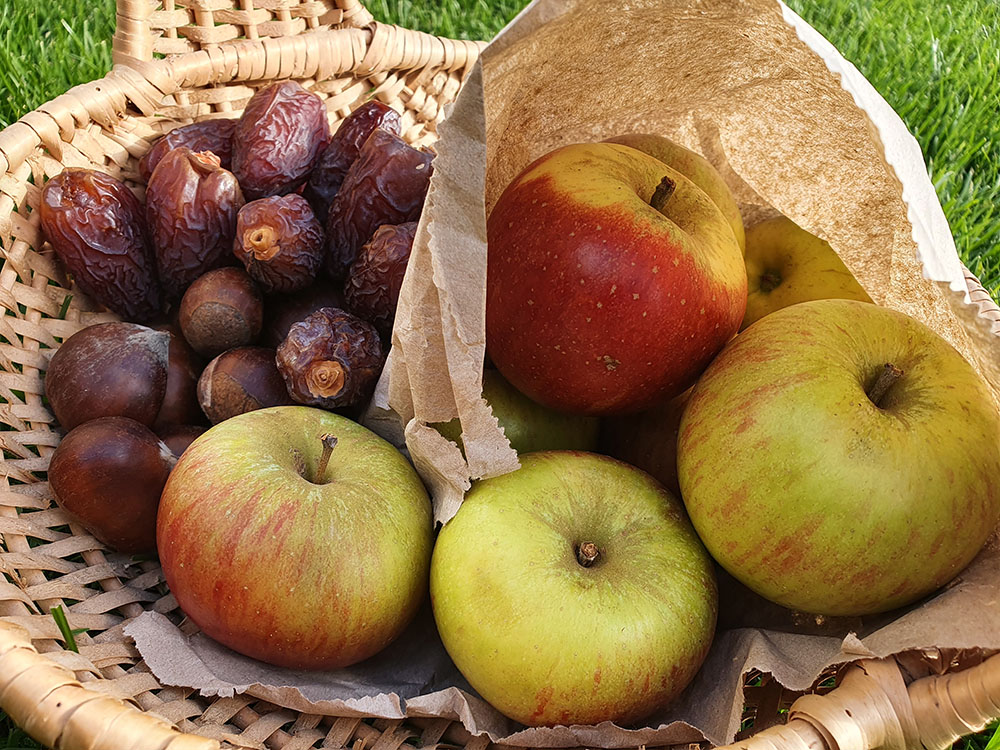 Ingredients
Chestnut Crumble
5 large chestnuts
110g plain flour
110g oats
125g soft dark brown sugar
125g unsalted butter (cold and cut into small cubes)
Apple Filling
1kg apples (approximately 7 Cox apples)
200g dates
½ tsp cinnamon
Toffee Sauce
125ml double cream
100g soft dark brown sugar
115g unsalted butter
A pinch of salt
½ tsp vanilla bean paste
Vanilla Cream (optional)
300ml extra thick double cream
1 tsp vanilla bean paste
½ tbsp icing sugar
Method
Preheat the oven to 200°C/180°C Fan.
Begin by preparing the chestnuts. Using a sharp knife, cut a large cross into the shell of each chestnut. Spread them on a baking tray, then roast in the oven for 30 minutes.
When ready, remove from the oven then set aside. While the chestnuts are cooling you can prepare the filling.
Fill a large bowl with cold water and add a dash of lemon juice if possible.
Peel and core the apples, then cut into wedges (I quartered the apples then halved them). Keep the wedges in the bowl of water while preparing the rest to prevent them from browning.
Roughly chop the dates into 1-2cm pieces.
Remove the apple wedges from the water, then add to a saucepan with the date pieces and ½ teaspoon of cinnamon. Add a splash of water, then heat on a medium high heat for up to 5 minutes, stirring to allow the flavours to mingle. Make sure the apples don't get too soft – they'll have plenty of time to cook in the oven!
For the toffee sauce, combine the cream, sugar, butter and salt in a saucepan and melt over a medium heat, stirring gently for an even consistency.
Once melted, turn the heat up to medium high and continue stirring. The mixture will begin to bubble and eventually darken and thicken into a smooth sauce. Once you're happy with the consistency, remove the pan from the heat and mix in the vanilla bean paste.
Carefully pour the toffee sauce onto the apple and date mixture, then mix well. Pour into a baking dish and set aside.
The Topping
To make the topping, begin by preparing your roasted chestnuts. By now they should be cool enough to handle, and the outer shells should crack off. Once shelled, chop the chestnuts into small pieces. Give them a quick blitz in a food blender afterwards for a finer blend.
Add the chopped chestnuts, flour, oats, sugar and butter to a large bowl. Using your fingertips, rub the ingredients together until there are no more lumps of butter and you have an even crumbly mixture.
Pour the crumble over the toffee apple mixture, then bake in the oven for 30 minutes, or until the top is crunchy and a rich brown, with toffee bubbling around the edges.
For the vanilla cream, beat the extra thick double cream in a medium bowl with an electric whisk for about a minute. Add the teaspoon of vanilla bean paste and some of the icing sugar, then continue to beat, gradually adding the rest of the icing sugar until you have a firm vanilla cream. You can add more or less icing sugar depending on how sweet you'd like it. Feel free to sample the cream as you go until you have a thickness/sweetness that suits you!
WORDS Andy Porter