It's the season for Halloween pumpkins, so we went in search of the perfect pick. The weather was typically autumnal as we drove up the road to Hill Farm on Oundle Road, Chesterton. The rain had abated but the sky remained a moody cocktail of smoky greys and indigo. Crows gleefully hopped in the distance as we entered a different world. Leaving the main road behind, we trundled up the hill, rustic fields sprawling ahead of us. It set the mood for Halloween and its seasonal pumpkins.
While you cannot harvest your own Halloween pumpkins from Hill Farm this year, we were pleased to find an impressive array of ready-picked pumpkins to choose from in all shapes, colours and sizes. There were social distancing measures in place, and the pumpkins were individually sized and priced by staff before being boxed indoors with all suitable precautions. Pumpkin picking would be an incredible experience any other year, but the fun of choosing from such an enormous selection meant that it was still well worth the journey. We came home with a box of assorted pumpkins and the feeling that we'd been on an adventure, not just a shopping trip!
A Pumpkin-inspired Bake
It is hard to believe that summer is over and we are now fast approaching winter. As the year begins to draw to a close, staying indoors during the colder months will feel a little more familiar. With all these Halloween pumpkins to turn into delicious treats it will certainly help to lift the spirits. While I have yet to use them all – some look too good to eat – I decided to try something a little different with the first to recreate some favourite autumnal flavours in a cake.
It's a light maple sponge with a hint of coffee, and a pumpkin spice buttercream and candy pecan topping. Pumpkin adds a fruity warmth to the buttercream that complements the other flavours well. See the recipe below.
For more information on Hill Farm, Oundle Road, Chesterton, PE7 3UA please visit their website hillfarmpyo.co.uk or Facebook page: www.facebook.com/Hill-Farm-Pick-Your-Own-and-Farm-Shop-168108103356063/
Produce is available Tuesday to Sunday, 10am to 5pm. Closed on Mondays.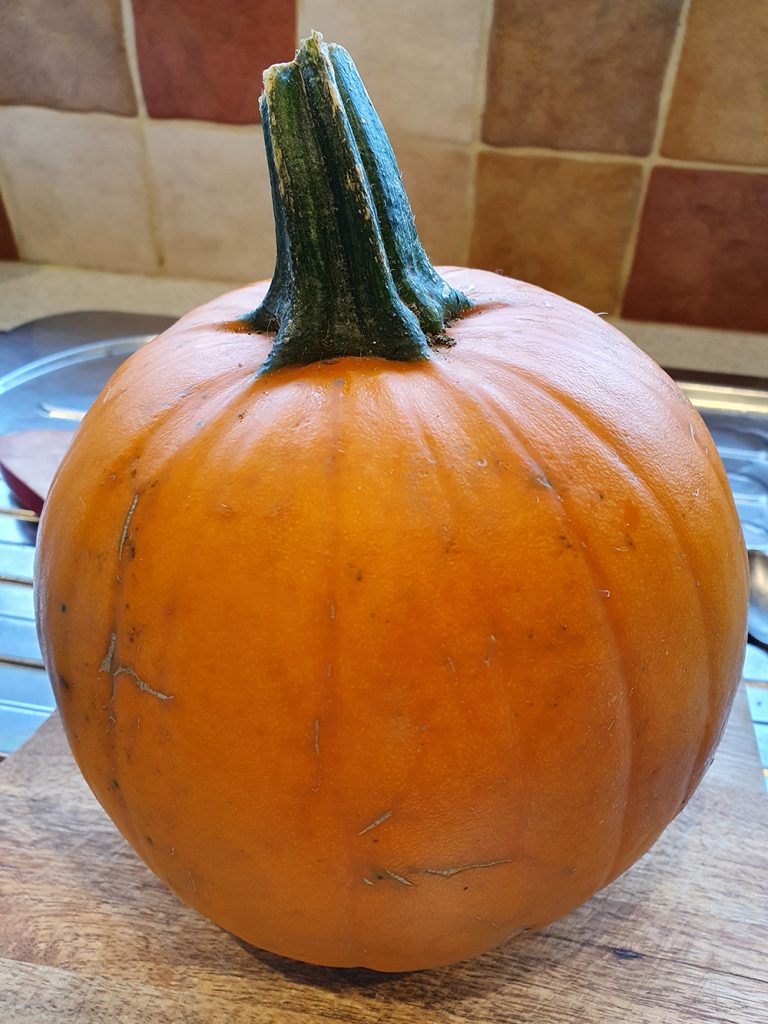 Pumpkin Spice Maple Cake Recipe
Ingredients
For the maple cake:
280g plain flour
2¼ tsp baking powder
¾ tsp salt
240ml maple syrup, room temperature
60ml whole milk
170g unsalted butter, room temperature
100g light brown sugar
3 large eggs
1 ½ tsp vanilla extract
1 ½ tsp instant espresso powder
For the pumpkin spice buttercream:
225g unsalted butter, room temperature
125g pumpkin, pureed (see recipe)
480g icing sugar
1 tsp vanilla extract
Pumpkin spice blend: ¼ tsp cinnamon and ⅛ tsp each of ground cloves, nutmeg, all-spice and ginger
1 tbsp whole milk (if required)
For the candy pecan topping:
100g pecans
100g caster sugar
50g unsalted butter
3 tbsp water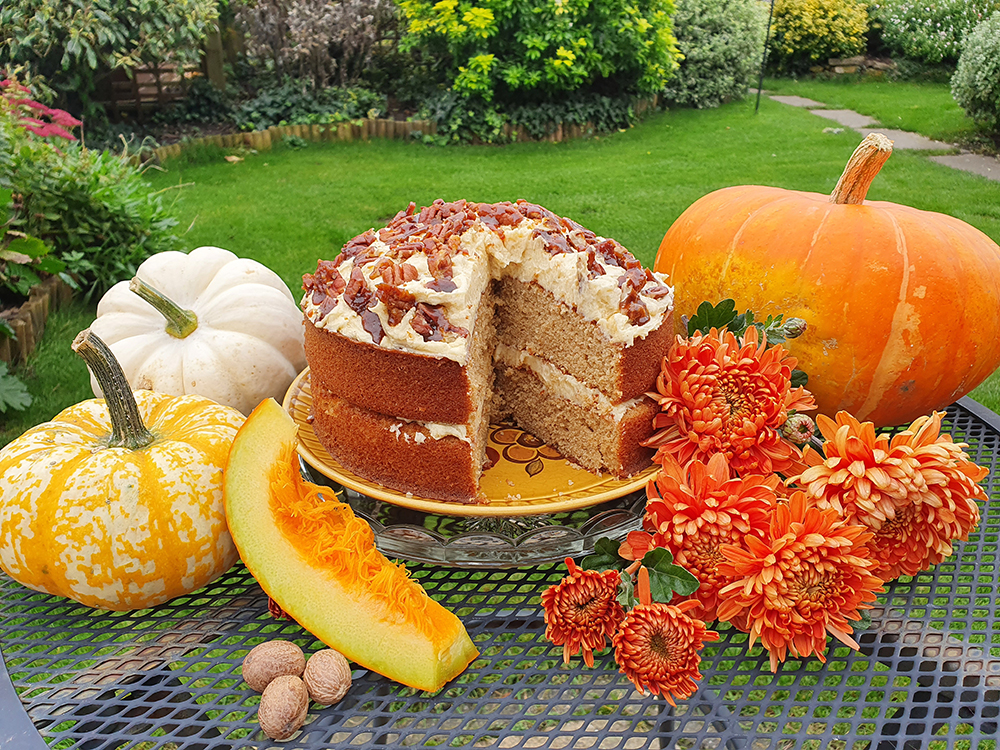 Method:
Preheat the oven to 180°C/160°C fan. Grease and line two 8-inch cake tins.
In a medium bowl combine the flour, baking powder and salt.
In a jug, combine the maple syrup and milk and gently whisk until blended.
In a large bowl, whisk together the butter and sugar for several minutes using an electric whisk at medium/high speed, until light and fluffy.
Once combined, reduce the speed to low and beat in the eggs, one by one. Add the vanilla extract and espresso powder and continue to beat.
Add some of the flour mixture, blend, then a little of the syrup mixture, blend. Repeat this until all has been combined.
Distribute the mixture between the two cake tins and then bake for 30 minutes.
Use a knife to check whether the cake has cooked inside. It should come out clean and not sticky. Give it a few more minutes in the oven if necessary.
Once ready, leave the cakes to cool in the tins for 10 minutes and then remove and place on a cooling rack.
Dice the pumpkin into 2-3cm cubes and steam over a pan of boiling water for 10-15 minutes, until soft.
Using a hand blender, puree the steamed pumpkin then leave to cool.
Once cool, combine the butter and the pumpkin puree in a large bowl then beat until smooth.
Add the icing sugar and beat with an electric whisk on a low speed until fully integrated. Increase the speed to medium/high and continue to beat for several minutes.
Add the vanilla extract and spice blend and continue to beat to a thick, creamy buttercream.
To finish, add the tablespoon of milk and give it a final blend until smooth.
Once the cakes are cool, place half on a plate or cake stand. Using a knife, spread half of the buttercream in an even layer over the top. When happy, add the top layer of the cake and then repeat with the second half of buttercream.
To make the candy pecan topping, break the pecan nuts into small pieces and lay on a sheet of baking paper on a baking tray.
Add the sugar, butter and water to a saucepan then melt over a low/medium temperature while gently stirring.
Increase the heat to high and boil vigorously while continuing to stir. Keep a close eye on the colour of the mixture. After a while it will turn from a golden foam to a rich bronze. Keep stirring a little longer until it deepens in colour, then take off the heat and pour evenly over the pecan nuts.
Leave to cool for 10 minutes to allow it to harden. Once hard, transfer the sheet from the baking tray to a hard surface.
Using a rolling pin, shatter the brittle to pieces.
Finally, decorate the top of the cake with the candied pecans.
WORDS Andy Porter