In April, the Portraits for Heroes project was launched on Instagram. What nobody expected was that the idea would become a hugely powerful artistic statement. We spoke to Caroline Forward, one of the participating artists, to hear her experience of this incredible collective achievement
WORDS Natasha Shiels IMAGES Caroline Forward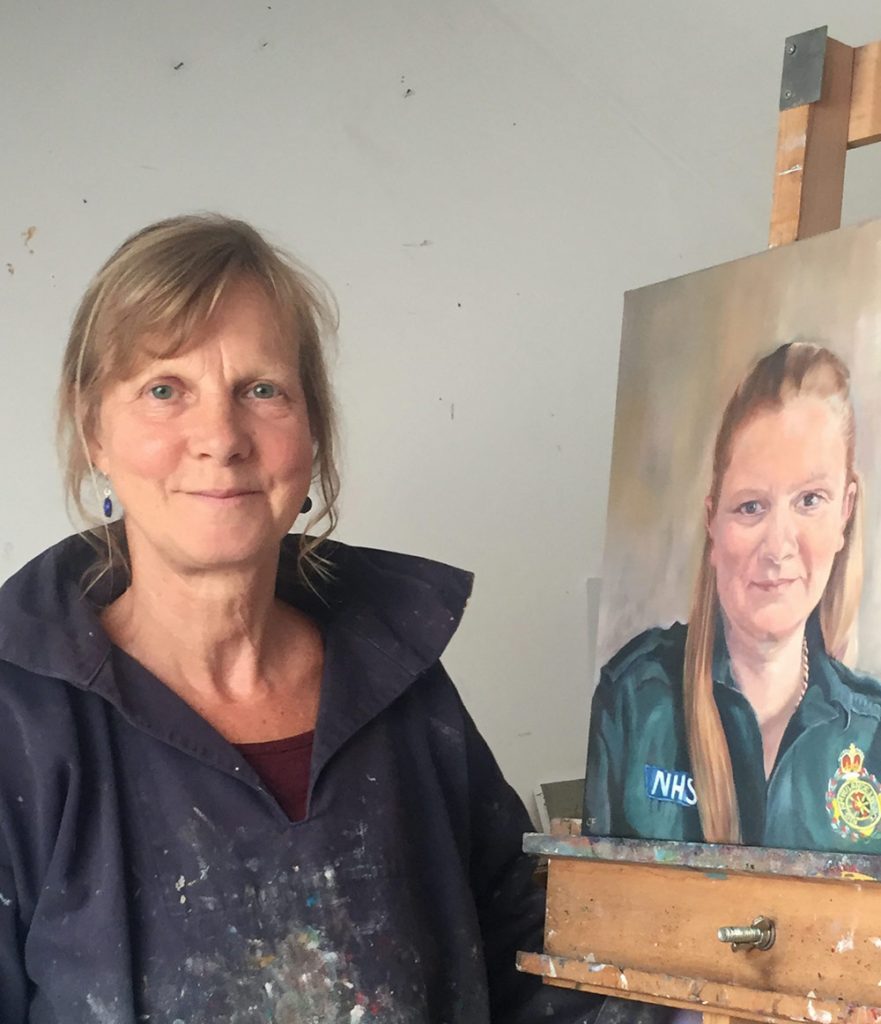 The idea for Portraits for Heroes originated from Tom Croft, who shared a two-minute video on social media. The Oxford-based artist wanted to paint a free portrait of the first NHS frontline worker to respond. Known before as an artist who painted famous people, his offer was generous and somewhat of a coup, and he quickly paired up with a nurse from Manchester. Over the coming weeks, Tom paired hundreds of artists with NHS workers before the BBC took hold of the story and the idea exploded. Suddenly artists all over the world wanted to take part in a similar initiative.
A meaningful project
One of the many artists who saw Tom's calling was Cambridgeshire-based Caroline Forward.
'I saw the initiative on Instagram and it really appealed to me, as I love painting people and had felt during lockdown that I would like to do something meaningful to give back to those who were already giving so much,' Caroline told us. 'It was a very simple procedure of posting a green "offer" to paint a free portrait, and then posting a red "I've been paired" message. I was only going to paint one, as it can take me quite a while to paint a portrait, but I received several requests and in the end agreed to paint three.'
No stranger to the brush, Caroline has been exhibiting regularly over 25 years, having essentially been self-taught. Living in Fenland for over 33 years has had a huge influence on the artist. 'I am inspired by the world around me, in particular organic structures, patterns and shapes in nature, the vast Fen skies, and reflections in water, whilst regular life drawing forms the basis of my practice.'
But Fenland skies are a far cry from the wards of hospitals. Caroline found the project deeply moving on many levels. 'I found the response of my "sitters" deeply moving,' she explained. 'Despite the challenge of working from just a photograph and meeting the NHS workers "virtually" rather than in person, this has been a very emotional experience. They are all so committed to the care of their patients, and during Covid-19 they have been going above and beyond their usual clinical roles to offer emotional support in the absence of visitors, to alleviate anxiety and fear linked to Covid-19, displaying concern for and understanding of their patients' mental health.'
Life-changing experience
Caroline's three NHS sitters, Kate, Katie and Karen, each received their portraits after the painting was completed. They sit proudly in their homes, a reminder of a very difficult time.
Kate, a midwife from Barnsley, shared her gratitude for her portrait. 'It's everything and more […] you made me feel very special. It's a gesture I will never forget and something I will treasure […] It's one thing having a painting, having a painting of yourself, capturing you as a young-ish woman, working in the job you love, amidst a moment in time nobody ever expected. Well, it's just something else.'
Karen was one of the many NHS workers who moved her children into the safety of family whilst she worked on the front line. When the paramedic first contacted Caroline, she hadn't seen her four daughters for over six weeks.
'What I try to do at work, and especially in this situation, is keep my patients as calm, comfortable and reassured as possible, whilst giving them the treatment they need to get better,' Katie, a coronary nurse from Sutton, explained, 'and being their advocate for them, especially at their most vulnerable.'
It was this selflessness which really inspired Caroline. 'I was so moved when both Kate and Katie talked about their care of their patients' emotional needs, their care coming from within them as an unquestioning response to their patients' needs, which they tried to meet despite their exhaustion of working in PPE, experiencing "the worst night shift ever" during Covid-19, and coping with staff shortages due to sickness.
'I am so proud to be part of something that truly portrays so many of our amazing NHS workers and demonstrates the power of art in telling such a powerful story, touching artists, sitters and audience. I was honoured to hear their stories and moved to hear how much it meant to them when someone was acknowledging them and spending time, thought and effort on them, at a time when demands on them were so high, and circumstances so difficult.'
With the Portraits for Heroes project still growing, already at over 12,000 posts on Instagram under #portraitsfornhsheroes, an online exhibition is under discussion. There's even hope for a physical exhibition in the future. The Net Gallery @thenetgallery staged a small exhibition of NHS portraits by members of Contemporary British Portrait Painters in Fitzrovia Chapel, which was shown online as a start to the online exhibitions.
Locally, you can find out more about Caroline Forward by visiting her website at www.carolineforward.co.uk or find her on Instagram at @carolineforward
Caroline is also the founder member of OuseLife drawing group (www.ouselife.co.uk) which hold regular exhibitions. They are currently working towards their next exhibition in Ely Cathedral due to be staged in 2022.
Caroline also accepts commissions, so please do get in touch if you have been inspired by her work.
Click here to find out more about Portraits for Heroes.