Fish and chips was Britain's favourite fast food well before anyone even used the phrase 'fast food'. But where and when exactly did fish and chips become our national favourite? With National Fish & Chip Day today, we tell the story of a great British tradition.
Origins of a British favourite
Brits have enjoyed fish and chips for almost 200 years. But in fact, it's not really an entirely British dish. Potatoes are of course not native to these islands. Sir Walter Raleigh brought them back from what we now call South America in 1586, with Spanish explorers introducing them to Spain around the same time. Oddly, Queen Elizabeth's cooks initially threw away the actual potatoes and cooked the stems and leaves instead.
The British can't unfortunately claim to have turned this lovely vegetable into the even more lovely chip. It took the French or Belgians to do that, most likely at some point in the 17th century. So, one half of our national dish has its origins outside of Britain. But what about battered fish?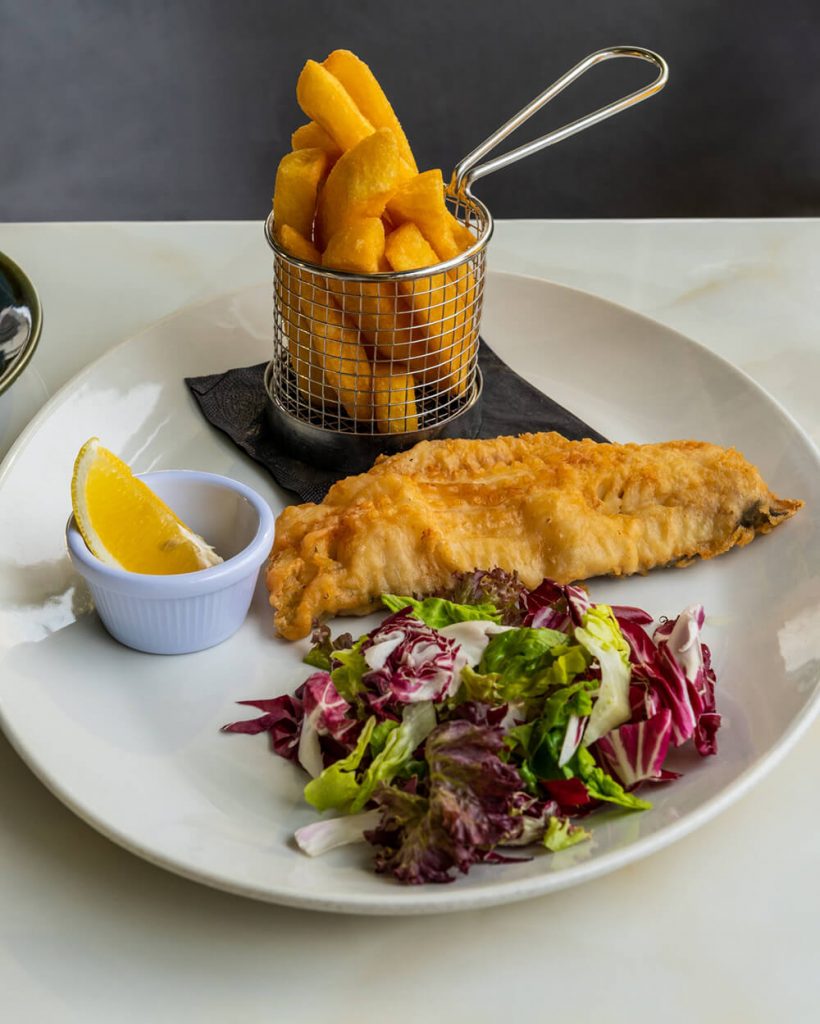 Fish has of course been in the British diet for thousands of years. But the idea of covering fish in batter and deep frying it is relatively recent – and it's another foreign import. Most historians agree that Jewish immigrants from Spain and Portugal introduced the concept in the 17th century.
Certainly we know that from as early as the 15th century Portuguese Jews were eating 'peshkado frito': cod or haddock coated in a flour-based batter and then fried. When many fled to England, largely to escape persecution, they brought their fish dish with them and sold it on the street from large trays hung round their necks. The Brits soon fell in love with tender fish in crispy batter.
We also know that, by the early 1800s, there were a number of 'fish warehouses' selling fried fish. In Oliver Twist (published in 1838) Charles Dickens writes of Field Lane having 'its barber, its coffee‑shop, its beer‑shop, and its fried‑fish warehouse'. Other reports talk of the fish being sold with bread or baked potatoes.
Fish and chips are born
It's not altogether clear when fried, battered fish and chips were first brought together. However, there is some evidence that it was during the 1860s. Some say that a Mr Lees opened the first fish and chip shop in Mossely, near Oldham, in 1863. Originally he operated from a wooden hut on the market before opening a permanent shop. Others believe that Joseph Malin got there even earlier, opening his fish and chip shop in London's Cleveland Street in 1860.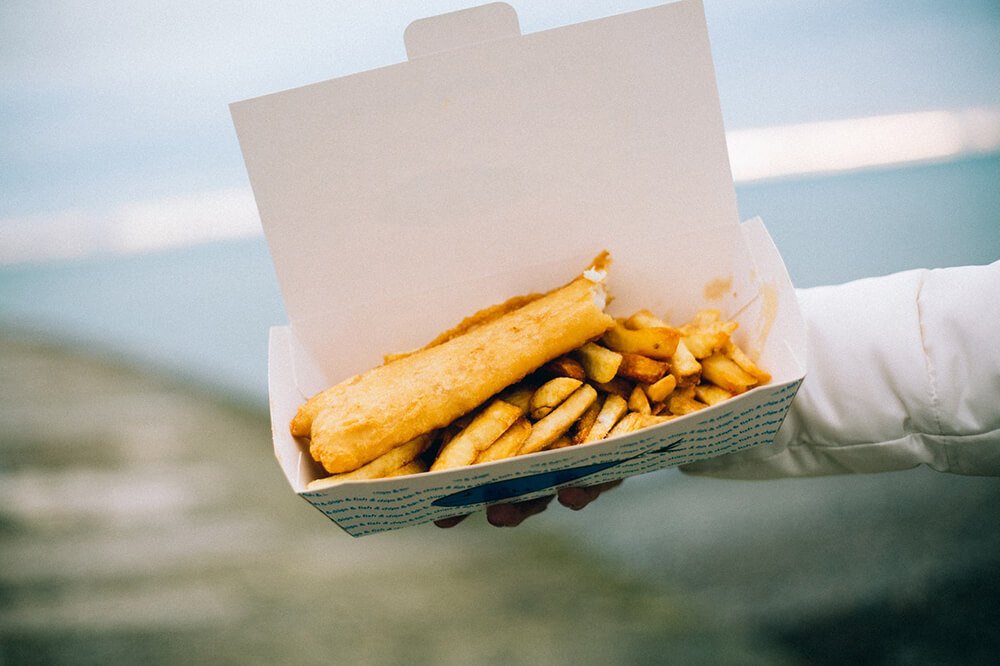 Whatever the case, fish and chip shops were soon springing up all over the country. It was the perfect concept for a small family business. They could operate their shops from small premises, and in fact they often set them up in their front rooms. And the dish didn't require expensive ingredients. Potatoes were cheap as chips (sorry, bad joke!) and the growth of the fishing industry in the North Sea and the Atlantic, along with the development of the railways, meant that fish was plentiful and cheap too.
Best of all, these new businesses met a need for hot, tasty and affordable food for the masses. Even the practice of wrapping fish and chips in newspaper came about because it helped to keep costs down. This continued all the way to the 1980s, when the authorities decided that shops needed to use more hygienic paper.
The dish grows in popularity
Fish and chips went from strength to strength. By 1910 there were 25,000 fish and chip shops in the UK, and 35,000 by 1927. By World War II, fish and chips was such an important part of the national diet that it was one of the few foods not rationed.
At some point in this glorious history, fish and chips became especially popular on Fridays. This is partly because Friday was payday for millions of working-class people, so it was the main day for a takeaway treat. It also has a religious background of course. Jewish people fry fish on Fridays ready for eating on their Sabbath (Saturday), when cooking is prohibited. And Christians – especially Catholics – have traditionally eaten fish on Fridays, a day when eating meat is prohibited.
National Fish & Chip Day is here
Nowadays there are approximately 10,500 specialist fish and chip shops in the UK. That's quite a decline since the food's heyday, but understandable given the much wider choice of takeaway over the past few decades. So, is fish and chips still the nation's favourite takeaway?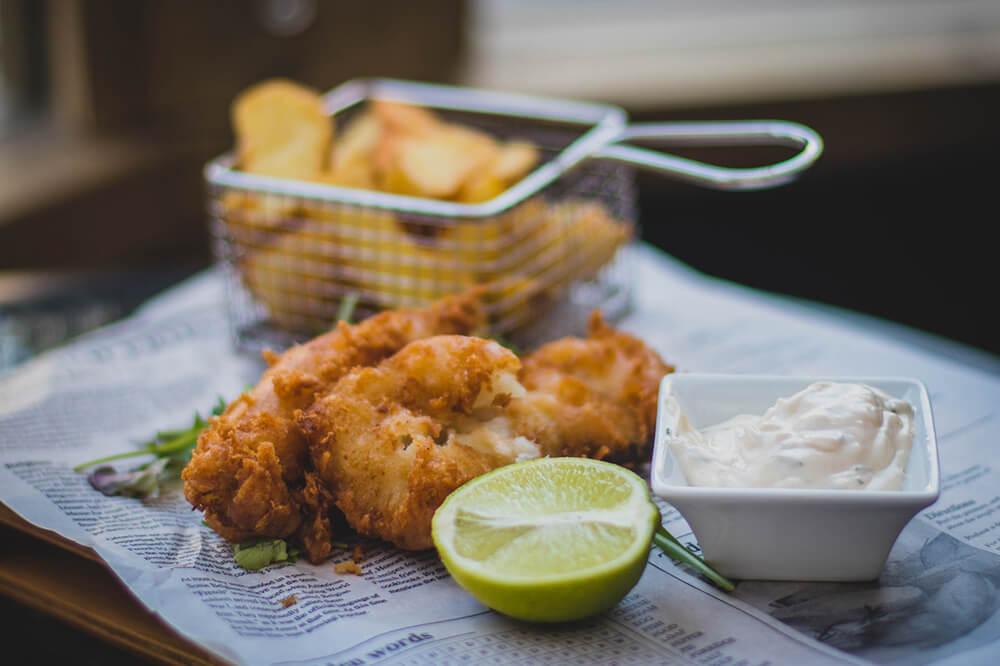 In a 2019 poll, fish and chips was voted the most popular dish in the UK. But other surveys have seen Chinese food take the top spot, with Indian takeaways and pizza placed ahead of fish and chips.
The organisers of National Fish & Chip Day are fighting back. It's an annual awareness day, and this year it's on Friday, 4 June. The idea is to 'celebrate this great traditional British dish, those who fish our seas and are involved in its production'. That all sounds great, especially as in a post-Brexit Britain there could be tough times ahead for our fishing industry.
The National Edible Oil Distributors Association (NEODA) promote this national day for fish and chips, which began in 1996. They get behind the day, including by selling t-shirts and doing fun stuff on social media. I'll certainly be doing my bit too, because for me and millions of others, Friday is still the day for fish and chips.
WORDS Richard Groom