Get your pomegranates ready for the Katharine of Aragon festival this weekend. Katharine of Aragon is buried at Peterborough Cathedral, and once a year the city holds a festival to commemorate this. Last year I enjoyed travelling by train (on the Hereward line of course) to Peterborough to join in. Although I love exploring Fenland history, and I have visited the cathedral many times in the past, I had never actually visited the burial site.
The Norman monastic cathedral is stunning. It features a rare triple front, that welcomes you in. Its painted wooden nave ceiling is the only one of its kind in Britain, and only one of four in Europe. Peterborough Cathedral was one of the five monasteries of the fens along with Ely Cathedral, Ramsey Abbey, Thorney Abbey and Crownland Abbey, which gave the Fen area the name the 'Holy lands of the English'.
On arrival at the Cathedral, I was greeted by 'Old Scarlet' a gravedigger, complete with red outfit, leading a walk around the beautiful building. Flowers, a portrait, and of course pomegranates decorate Katharine of Aragon's burial site. Katharine was known as the pomegranate queen because they featured on her flag, linking to her Spanish origins. Interestingly, when she was buried, her ceremony was as a Dowager Princess of Wales rather than a queen, but her tomb is now clearly decorated with the words 'Katharine Queen of England'. Katharine was the first wife of Henry VIII, and has been buried in Peterborough Cathedral since 1536, after her death at Kimbolton Castle, where she had been exiled to by Henry.
The Katharine of Aragon Festival 2021
Like most festivals over the last few months, the Katharine of Aragon Festival 2021 event is virtual this weekend. You can see online films of Old Scarlet, there are projects to make or draw pomegranates, and you can watch the laying of the wreath in a service. Visit their website for more details.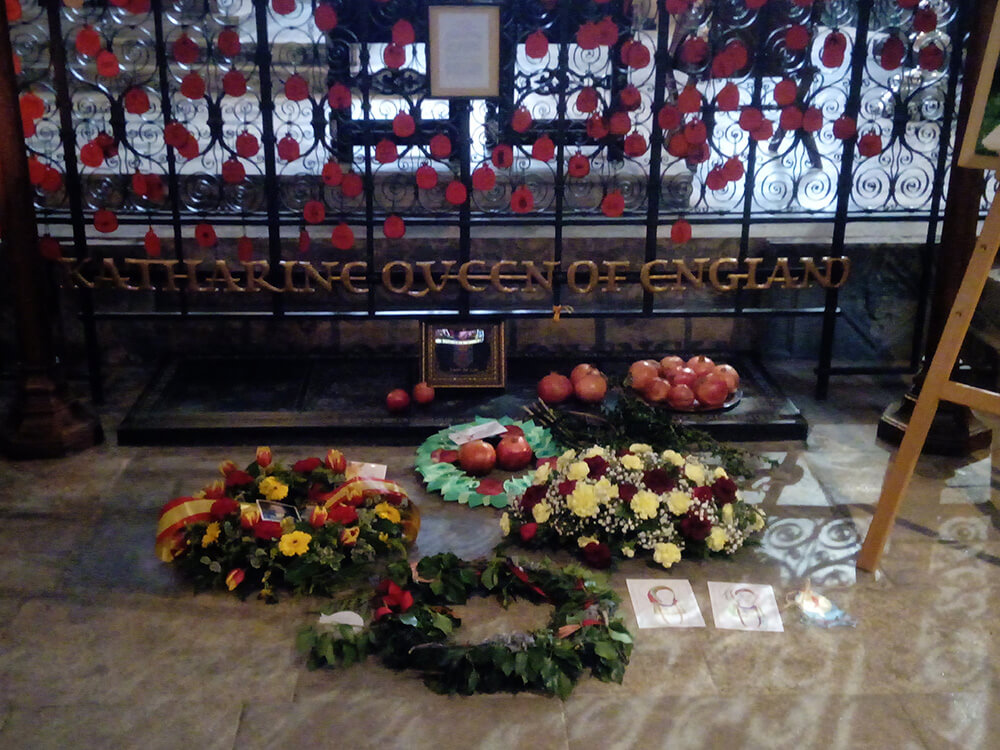 Mary Queen of Scots was also buried at Peterborough Cathedral in 1587, until her remains were exhumed by her son King James in 1612 and moved to Westminster Abbey. There is an information board and sign to mark where she was previously buried in the cathedral.
WORDS & PHOTO CREDITS Karen Merrison (creator of Fascinating Fens)