Nita cooks her dishes using the traditional Ayurveda alternative medicine system, which is rooted in Indian culture. It focuses on the use of herbs, spices and essential oils to promote feelings of wellness and relaxation. Many Asian cultures are denominational of Ayurveda, and there is a great deal of overlap between Ayurveda techniques. These additionally extend to holistic therapy, massage, and yoga, which is a concept often included in Chinese and Thai subcultures.
The popularity of Indian cuisine
Traditional Indian dishes have been transported to English cuisine, notably curry. This was popularized by Queen Victoria in the nineteenth century, due to the presence of her Indian Munshi (or 'teacher') Abdul Karim. It is now recognised as a vastly enjoyed English dish, as well as a hugely popular and intricate Indian dish, that has many variations. It is popular across the whole of Asia, from chana masala in India, to chicken katsu in Japan.
Due to the extensive diversity prevalent within the United Kingdom, we can appreciate the cultures of other countries, including Eastern European, Asian and Caribbean delicacies. It is for this reason that we should be grateful for people like Nita, who spread the intricate cultures we are not naturally aware of and educate us on delicate practices that have been rooted in over a thousand years of tradition.
Nita is the definition of an altruist; she is a gem of the local community and often graces us with offerings of traditional Indian food to enjoy, such as tantalizing pakoras and succulent chicken curries. Nita learnt the art of cooking from her late mother, who serves as a huge inspiration for her cooking. Nita has kindly given me permission to share some of her recipes with you, and it is an honour to reference such a talented lady in this article.
Chana Masala (Chickpeas)
Ingredients
4 tblspns vegetable oil
½ tspn cumin seeds
1-2 sticks cinnamon bark
A few curry leaves
1 chopped onion
100ml passata OR 1 tblspn of tomato ketchup
1 can cooked chickpeas
1 chilli, chopped
1 large potato, cubed
4-6 cloves of garlic, chopped
Bay leaves
Pinch of asafoetida (optional)
1 tspn salt
1 tspn turmeric
½ tspn garam masala
Chopped coriander to garnish
Method
In a large pan heat the oil
Add cumin seeds and fry until they pop. Then add the cinnamon bark, curry leaves and onion
Fry until translucent
Add the passata (or tablespoon of tomato ketchup instead)
Stir and allow to simmer on low heat for five minutes
Add the chickpeas and all the other ingredients
Mix thoroughly
Add ½ litre of water
Allow to simmer for 30-45 mins
Serve with rice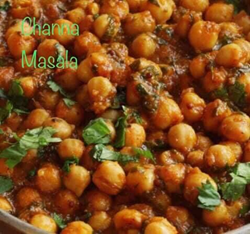 Chilli and Parsnip Soup
Ingredients
400g parsnips, peeled and chopped
1 onion
4 cloves garlic
½ a coconut cream block (or a smaller amount, according to taste)
1 veg stock cube
1 tspn salt
Chilli flakes or one whole small, dried chilli or ground pepper, for garnish
Parsley sprig to garnish
Method
Steam the parsnips and onion until cooked, then allow them to cool
Add 1 litre of water
Puree in batches with a blender
Add all the other ingredients apart from garnishes
Bring to the boil and simmer on a very low heat for 20 mins
Pour into bowls and add garnish
Serve with fresh crusty bread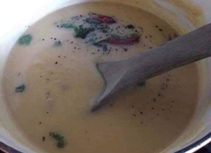 Garlic and Apple Pickle
Ingredients
100ml mustard or veg oil
1 tspn crushed mustard seeds
1 tspn ground coriander (or crushed seeds)
Amchoor (mango) powder
Pickle powder
Plenty of garlic cloves
½ tspn asafoetida
Salt
Chopped apples
Chillies
Method
In a pan heat the mustard or veg oil
Add the crushed mustard seeds and fry
Add the rest of the ingredients
Stir
Simmer for 10 mins until any fluid has evaporated and the oil floats to top
Cool
Fill jars with the mixture and add more oil
When cool, seal jars.
Store in fridge for a maximum of 2 weeks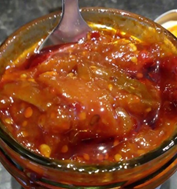 For more recipes from Nita's Kitchen visit her Facebook page.
Words by Harvey Moorhouse