Do missing teeth affect your smile and confidence? Do you struggle to eat some foods? Would you prefer to have a fixed tooth replacement that does not compromise your existing teeth? If you've answered yes, then dental implants may be ideal for you.
What is a dental implant?
It's a titanium post which the dentist places in the bone to serve as the "root" foundation for a tooth or teeth. Your bone biologically attaches to it, creating permanent stability. The dentist then attaches a crown to the implant, to look and feel like a "real" tooth.
Dental implants are the best long-term solution to missing teeth because they:
1 restore function so that you can speak and chew normally
2 spare other teeth from being used as bridge supports
3 preserve jawbone, which would otherwise waste away
4 prevent other teeth from tilting or over-growing
5 are cleaned in a similar way to your natural teeth
6 have excellent success rates. Over 95% achieve biological integration within several months, then last in the long-term with good oral hygiene and regular dental reviews.
Who can have a dental implant?
Implants are suitable for anyone healthy enough to undergo a routine tooth extraction, and with good oral hygiene. Even if you've lost bone and gum support, then your dentist can graft these tissues prior to implant placement. However, implants aren't appropriate for heavy smokers and those with unstable gum disease or poorly controlled diabetes. If you're very nervous or prefer to forget the dental experience, then a medical specialist in sedation can help you relax during the surgery.
Why choose the Priestgate Clinic?
Dental implants may be provided by your general dentist. At the Priestgate Clinic they're solely provided by Dental Implantologist and Specialist in Periodontics, Dr Emiliano Zanaboni. He has both specialist qualifications and over 20 years of experience specifically in implant dentistry and advanced soft tissue management. These skills are supported by the latest technology and a dedicated dental team.
Before and after views where an implant has replaced one of the central incisor teeth: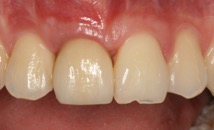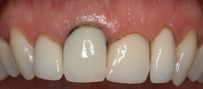 Words by the Priestgate Clinic