I love sharing this recipe, which is my take on a veggie curry, suitable for vegans too
When you fry the onions, ginger, chilli and garlic together it smells so amazing.
The dish is so colourful and full of complimentary flavours. When I share this recipe in my lessons it goes on to be a family favourite and I hope you enjoy it too.
Ingredients
For four helpings take:
2 tblspns vegetable oil
1 onion, diced
1 large garlic clove, finely chopped
1 tablespoon freshly grated root ginger
1 red chilli, deseeded and finely chopped (optional)
1 teaspoon garam masala
1 teaspoon ground cumin
1 teaspoon ground coriander
450g sweet potatoes, peeled and diced (2 medium potatoes)
400g can chickpeas, drained and rinsed
200ml vegetable stock
400g can chopped tomatoes
125ml coconut milk
100g fresh spinach roughly chopped
Sea salt and freshly ground black pepper
Small bunch of coriander, leaves chopped
250g rice*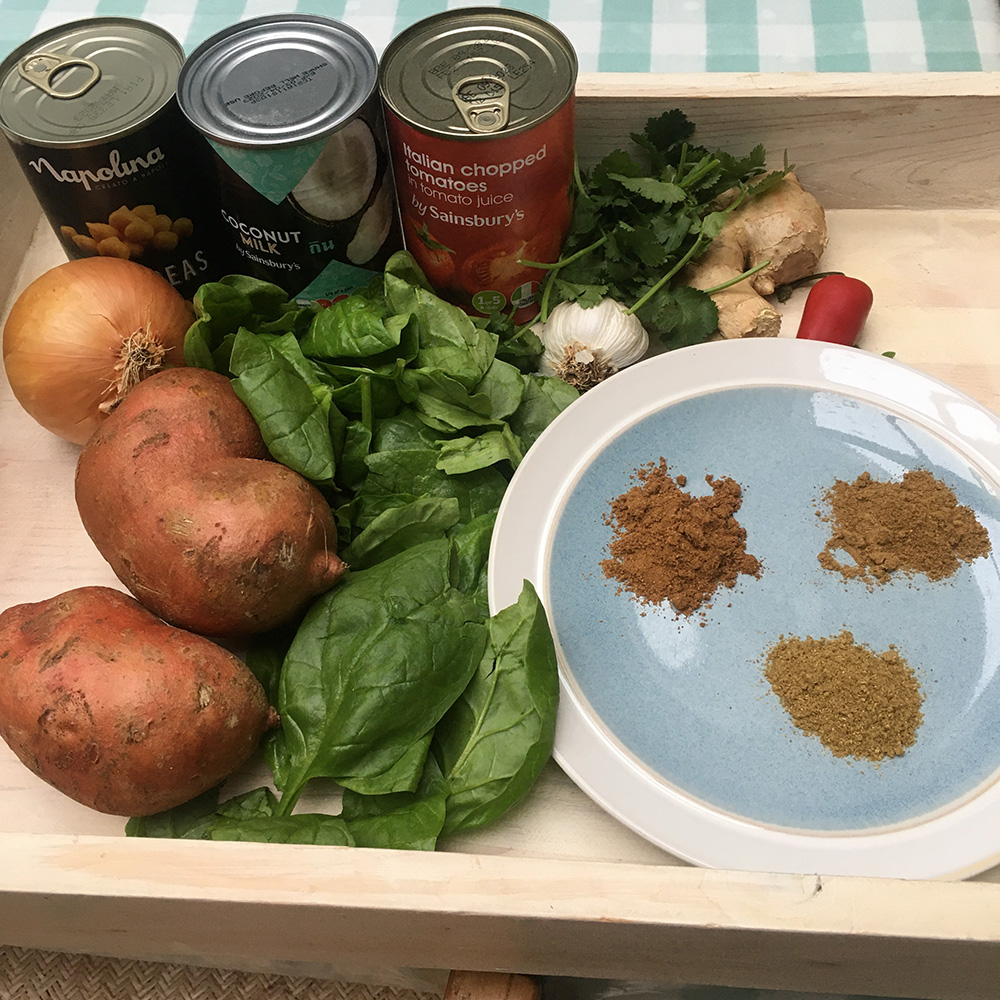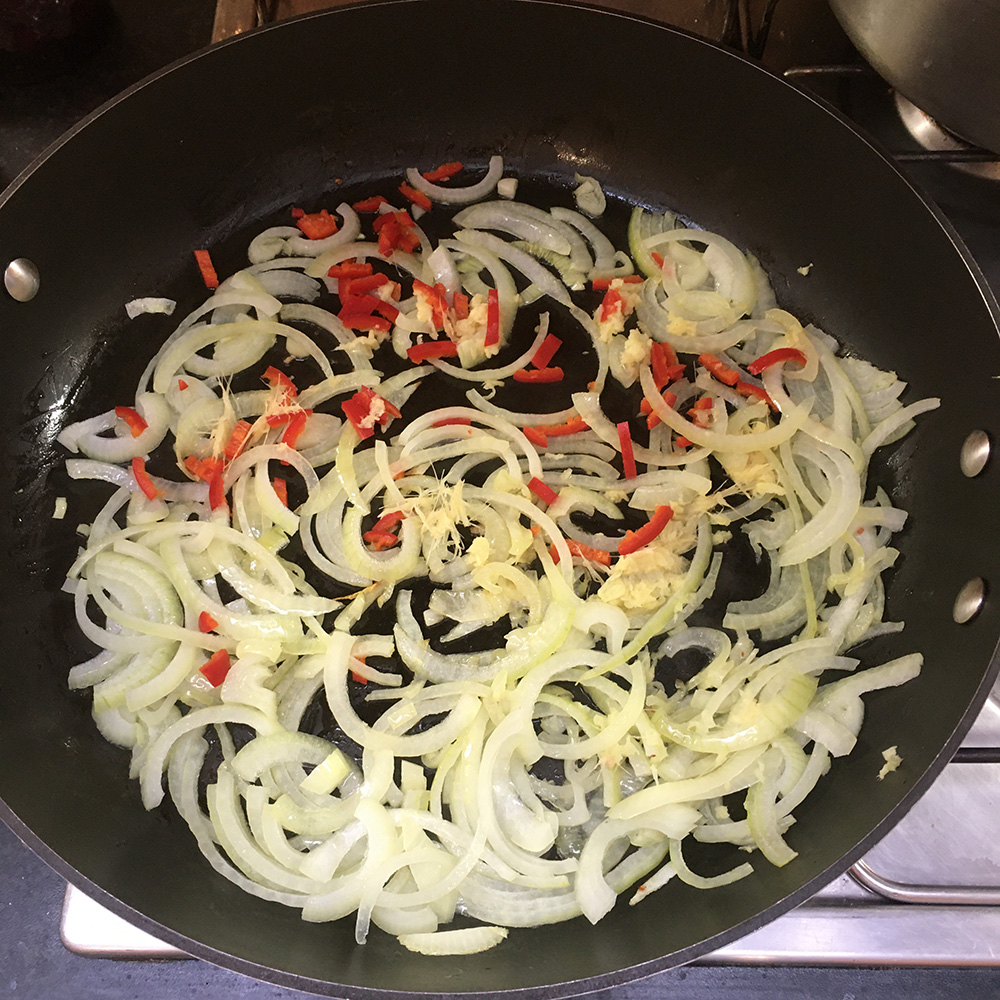 Method
1. Pour two tablespoons of oil into a large frying pan, then sauté the onion until softened and just beginning to brown around the edges. Stir in the garlic, ginger and chilli and cook for another 30 seconds or so. Add the garam masala, cumin and coriander and cook for a further minute, stirring. At the same time start cooking the rice in a medium saucepan with boiling water – time it following the cooking instructions.
2. Tip the sweet potatoes and chickpeas into the onion mixture, mix well to combine, then allow to sauté for a couple of minutes. Stir in the stock, tomatoes and coconut milk. Bring to the boil, then reduce the heat and simmer for about 20 minutes, with the lid on the pan, until the sweet potatoes are completely tender.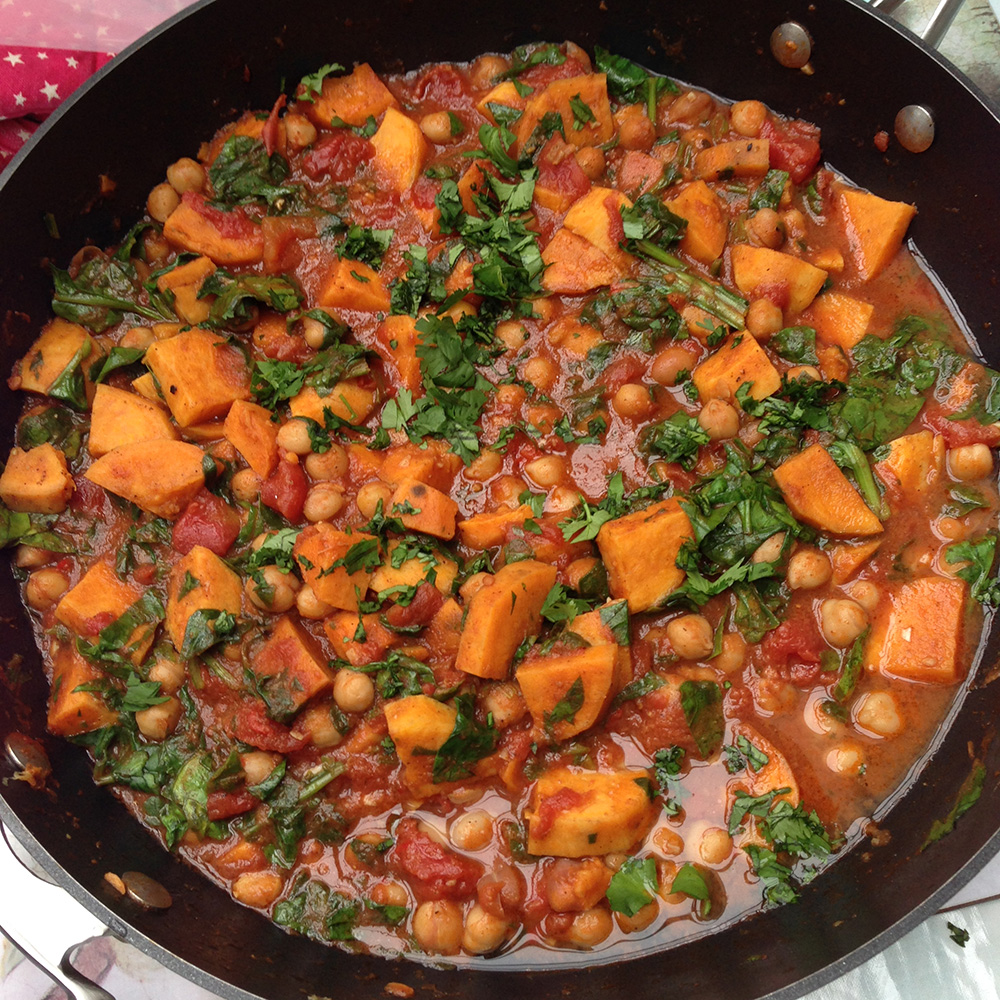 3. Stir the spinach into the sweet potato mixture, then turn off the heat and put the lid back on the pan. The spinach will cook through and become tender after a few minutes. Taste and season with salt and pepper.
4. Lastly, chop the coriander leaves. Serve the veggie curry with the rice then sprinkle with the coriander.
* Caroline's Tip – This curry goes really well with Thai black rice
Words by Caroline's Cookery