Arthur Rank Hospice Charity is delighted to have achieved gold accreditation in the Best Employers 2021 Awards. Eleven other organisations from across the region, including LSI Architects who designed the Hospice's home at Shelford Bottom, and The Cambridge, who have a long-term partnership with the Charity, also achieved Gold standard.
The accreditation was awarded after more than 150 colleagues participated in a staff survey, which took place in July 2021. The Hospice's services are provided from its Shelford Bottom home in Cambridge, the Alan Hudson Day Treatment Centre in Wisbech, and the Charity has five high street shops (in Cambridge, Cottenham and Shelford) as well as a Retail Hub (in Sawston).
Best Employers Eastern Region brings together employers across the East of England to form a community that enables leaders and organisations to continuously develop and improve their culture, colleague engagement and workplace environment. Since its beginnings in 2012, more than 29,000 staff surveys have been completed!
The Judges commented:
"There is clear intent from the Board and the management to harvest feedback from their employees, demonstrating an openness of mind to listen, support and pro-actively seek to improve the working experience of everyone.
Given that Arthur Rank Hospice is a charity, operating in a very challenging sector during a pandemic, they have striven to be the best that they can be, given their budget limitations.
Alongside good policies for personal advancement for each employee, it is perhaps the "little things" – the afternoon tea invites from the senior managers to the employees, the gifts on return from furlough and the provision of "Arthur's Shed" to provide space for overwrought individuals to chill, that have so impressed us. It spells an atmosphere of genuine kindness and says, "We care"."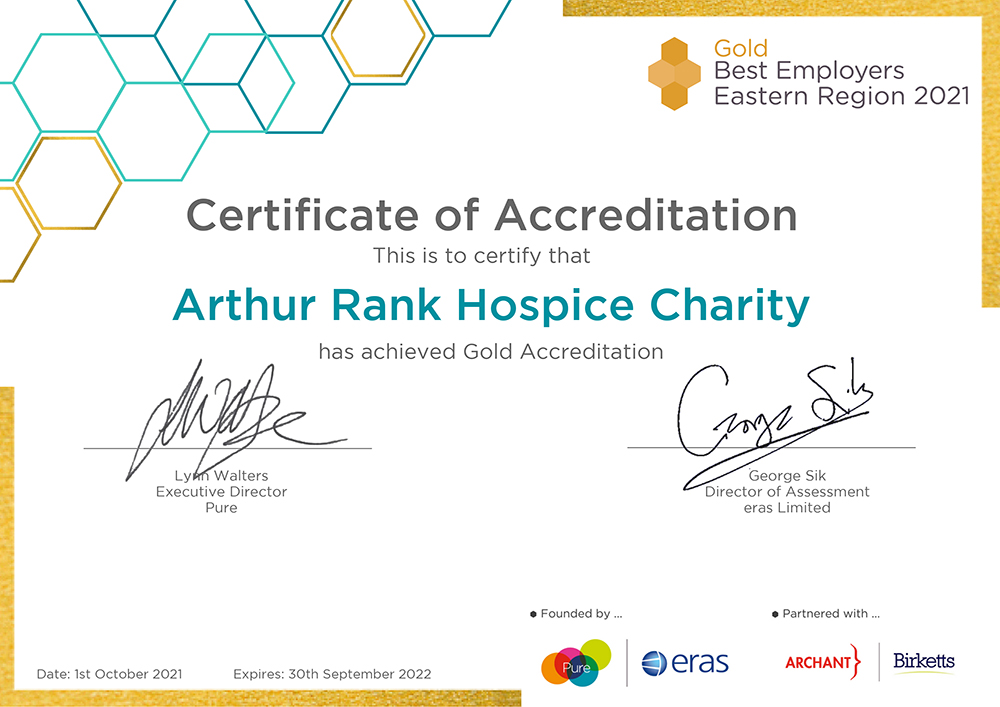 Arthur Rank Hospice Charity first achieved gold accreditation in 2018. Gemma Manning, HR Director adds:
"It is great that we have built on our success and continue to be recognised amongst a very select group of organisations as one of the best employers in the eastern region. Our Staff Survey results show improvement in every area, except one which has maintained. We are now engaging with colleagues and trustees to form our action plan which will enable us to maintain our already high standards and develop in areas that we can improve."
Feedback is being invited from colleagues across the organisation with and once agreed, the Action Plan will be shared via methods such as the Charity's intranet, Staff Forum and Team Meetings. Gemma adds:
"Our trustee board, having already implemented a 1.5% pay award in April, recently decided to match the 2021 NHS pay award of 3%. It is a priority for us to be able to attract and retain a high performing workforce within a competitive market, particularly in such challenging times.
"Our colleagues are our greatest asset, and we hope that this additional award goes some way to recognise the continued hard work and dedication of 'Team Arthur'. Without each of them, regardless of their role, we could not provide our patients and their families with the outstanding care that they deserve. A huge thank you to every one of them, for their help with making every moment count."
Would you like to join #TeamArthur and take on a rewarding role working for an award-winning Charity? As of the start of October, there are vacancies for an apprentice chef, digital marketing lead, clinical nurse specialist, corporate fundraiser and healthcare assistants. Find a current list of vacancies at arhc.org.uk/vacancies or to consider volunteer roles visit arhc.org.uk/volunteers