WORDS Andy Porter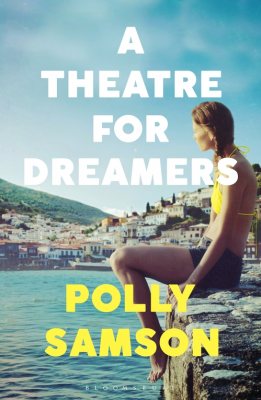 During these challenging times, it is understandable that many of us are yearning for an escape. Time for many has become a foreign concept as days blur into each other and we remain indoors more than before. Somehow half the year has already slipped through our fingers. The dream of escaping to a beautiful Greek island is definitely an alluring prospect, and while it may not be a possibility now, Polly Samson's A Theatre for Dreamers provides us with an enticing alternative. The protagonist of our novel, Erica, also dreams of a new beginning. In a story set primarily during the 1960s on the island of Hydra, Erica attempts to leave her cruel father behind in England for a life of love, art and freedom. Hydra is a liberal paradise, where art and drugs mingle, and people are free to explore their sexuality and express themselves as they desire, far from the judging eyes of the rest of the world.
The language is rich and enchanting, and though there is no real magic present on the island, it still feels like a fantastical place, a dreamlike tapestry of colourful personalities, music, poetry and dance. Most interestingly, the book is based on real people and events, the most notable name being the Canadian singer and songwriter, Leonard Cohen. I will admit I was not too familiar with Hydra or its inhabitants prior to reading the novel, but fortunately the book does not expect you to have done much research beforehand (it would certainly enrich the experience though!). It does, however, serve as the perfect introduction to Leonard's music and the world that he inhabited, and it is fascinating to learn more about where much of his material originated. I am certainly grateful to have been introduced to his music through this book, as there is much inspiration to be drawn from his lyrics.
Hauntingly though, if there's one big thing to take from this novel, it's the question: have things really changed? This is brought up throughout the novel as human relationships are explored and revisited over time (I change. I am the same. I change. I am the same.). Artists gathered on Hydra to dream of a better world, and indeed there is hope to be found in these pages, but in the present day we are also reminded that there is still much to be done. Perhaps this is even more prevalent now, a couple of months after the book first hit shelves, as the year continues to be filled with troubling news, hate fills our streets, and we remain disparate when really we should be united. Hydra served as a forum for discussion and the sharing of ideas, and though it was perhaps not always the utopian paradise that many hoped it would be (unfortunately it was often emotionally destructive), it was still a beacon of light that served to inspire others during difficult times. It was a place of beauty, but it also forced people to confront themselves. The book can definitely be read for its escapism alone, and it is certainly welcome in that regard, but it also has much to discuss while shedding light on a fascinating period that I am sure to read more about in the future.
For more information on Polly Samson and her books, please visit her website: