Outside Structure Solutions team up with Dobbies Garden Centre, Huntingdon to bring you the BRAND NEW Eclettica, the stunning new addition to the iconic Giulio Barbieri range of pergolas.
The Eclettica
The Eclettica is the first to offer, sound absorption technology enclosed within its false ceiling, minimising the reverberations and blocking sounding waves, creating the optimum acoustic comfort. The structure is constructed using a robust T6 aluminium frame with a selection of warm colours and matt finish, painted with high-resistance epoxy powder guaranteeing high quality and durability whilst offering a cosy look that is in harmony with the natural elements. The atmosphere is completed by its comforting glow created from the integrated LED lighting system, housed within the soltis fabric ceiling, manufactured by Serge Ferrari, a leading company in the production of fabrics used for the construction of functional structures as well as garden furniture. The Eclettica is available in a range of sizes and shapes spanning from 3 meters to 6 meters in length and width. It is available in 4 standard colour options with ability to choose a specific RAL colour to capture your precise colour scheme or business brand. The structure compliments a vast range of exterior shade and shelter solutions from the creators at Giulio Barbieri, one of the world's leading providers of canopy structures.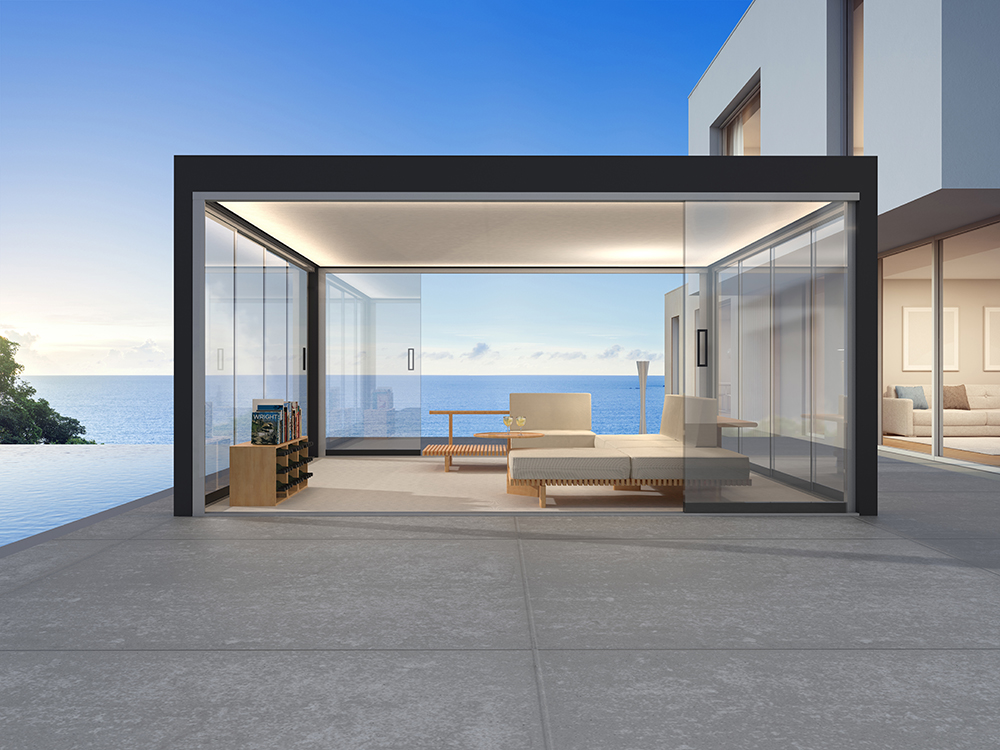 Giulio Barbieri are well established in the shade and shelter sector. Incorporated in 1989, the Italian firm initially was founded by the designing and manufacturing gazebos for the events industry, developing into an array of luxury outdoor products such as pergolas, retractable tunnels and bespoke carports with the ability to support solar panels or house EV charging ports. Giulio Barbieri pride themselves on creating functional products that offer durability and up to date technology without compromising the aesthetic effects, making their range of products the ideal solution in creating useable space.
Outside Structure Solutions hold a long standing relationship with Giulio Barbieri giving us the ability to offer their range of products to the UK market appealing to both the residential and commercial sectors. As a UK distributor we have exclusive rights to administering the sale and fitment of their complete range alongside a host of premium structure providers such as Tarasola and Gibus. Since 2008, Outside Structure Solutions have been working closely with clients, understanding their requirements and using our expert knowledge to create a perfect solution to meet the needs identified. We offer an extensive range of products and services in addition to pergolas such as, awnings, vertical roller walls, jumbo umbrellas and post protection with extensive product knowledge and fitment with precision. The Eclettica joins their wide range of products available and is set to be displayed within Dobbies Garden Centre as of December and throughout 2022.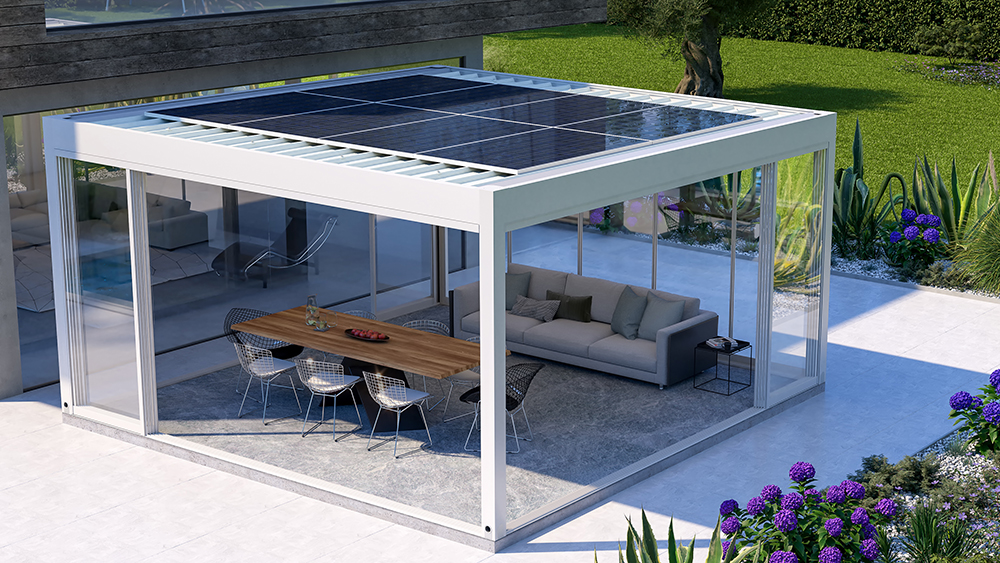 Dobbies Garden Centres
Dobbies Garden Centres is an extremely well known garden centre brand, with over 70 sites located within the UK. Founded in 1865 by James Dobbie as seed merchants, they naturally progressed with rise in residential gardening, opening their first store in 1984. Through consistent innovation, they now offer a full range of plants, garden and home accessories with facilities to match, building a reputation of both quality items and service. The Eclettica is set to be launched from their Huntingdon branch as of December 1st by Outside Structure Solutions and shall remain there throughout the duration of 2022. Why not visit today and create your dream garden, all under one roof.
To find out more about the Eclettica, request a brochure or obtain a quote, visit www.ecletticauk.co.uk or call us on 01480 413050 to arrange a demonstration of its features.