Following a solid-gold 2022 event and recent headline announcements including Underworld, Fat Freddy's Drop, Roisin Murphy, 2manyDJs (live), Leftfield, The Libertines, De La Soul, Leftfield, Peaches, Lava La Rue and more, Secret Garden Party announce their final 2023 festival programme, featuring the best established and emerging live and electronic acts.
Abby NuRock / Absolute / Alan Dixon / Andreya Triana / Anna Wall / Balamii Radio / Batu
Beyond The Struttosphere / Blond:ish / Cardinal Sound / CC:Disco / Chloe Robinson / Danielle
Demi Riquisimo / DJ ADHD / DJ Paulette / DR Banana / Eddie Temple Morris / Elkka
Emerald / Ewan McVicar / Fabio & Grooverider / Faithless (DJ set) / Gerd Janson / Heidi / Hodge
Horsemeat Disco / I. Jordan / Ivan / Jamz Supernova / Jasper Tygner / Jay Carder / Krystal Klear
La La / Lili Chan / Mathew Jonson (Live) / Matrefakt / Maxi Soundsytem / Meg Ward
Mella Dee / Melvo Baptiste / Nikki Chong / Nikki Nair / Pangea / Patrice / Peverelist / Raw Silk
DJ's / Sam Strutt / Sarah Story / SHERELLE / Shy One / Storm Mollison / SYREETA / Cinthie
The Menendez Brothers / Tibasko / Toronto Is Broken / Toshiko Ohta / Tygapaw / Vakvys
Waze / and plenty more lined up for 2023
20-23 July 2023, Near Huntingdon, Cambridgeshire
Get Your Tickets HERE
Absolute, DJ Paulette, Gerd Janson, Elkka, Jamz Supernova, Blond:ish, Mathew Jonson, Faithless (DJ set), Chloe Robinson, DJ ADHD, Batu, Nikki Nair, SHERELLE, I. Jordan, Meg Ward, Feelings, Jasper Tygner, Haus Of Don, Danielle, Hodge, Balamii, Mella Dee, Heidi, Pangea, Fabio & Grooverider, and Horsemeat Disco are just a selection of the DJs and party crews confirmed across several stages, including The Drop, Lost Woods, Lake Stage, HE.SHE.THEY., Pagoda, Skulloon, Khapha, Noirganica, and Avant Garden.
Set in a 10-acre landscaped garden, bordering a river and lake, Secret Garden Party is the ultimate inclusive festival experience with music, wellness, art and creativity firmly at the forefront. 2023 will see SGP's renowned garden playground once again transformed into a truly unique, immersive experience across several stages, arenas, and spaces hosting live acts, talks, workshops and more. Final tickets are available HERE.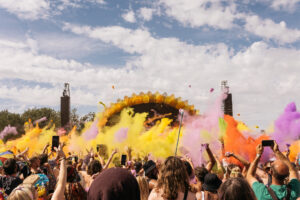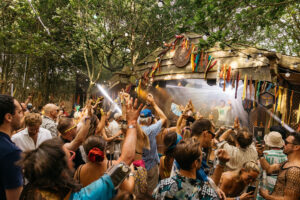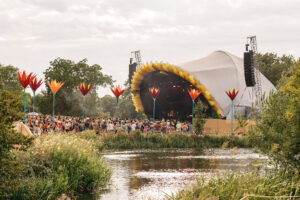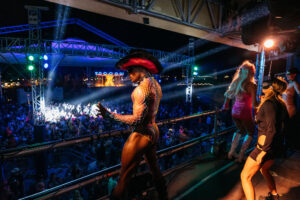 SGP faithful, The Drop has produced some of the festival's most iconic sets in its 20-year history, with B2B's from the likes of Ben UFO, Joy Orbison, Disclosure, Eats Everything, TEED, and Skream becoming defining moments for festival goers. This year looks set to be another serious party with a programme including legendary DJ/producer Mathew Jonson, who will be performing a carefully curated live set, as well as renowned party-starter Blond:ish, known to traverse sounds as far and wide as techno, afro house, and 80s disco. While crowd favourites Gerd Janson, Ewan McVicar and Maxi Soundsystem will join rising talents including Demi Riquisimo, Tibasko, and more.
Amongst the nooks and crannies hidden in the grounds is the uninhibited dancers' paradise, Lost Woods; once again bringing a hefty line-up of artists including Bristol's Batu, and Hodge; playing an exclusive B2B set with Peveralist, alongside rising stars Ploy and Yushh. Known for his hi-NRG sets, Nikki Nair looks set to match the tempo with his unique blend of breaks and UKG-influenced sounds.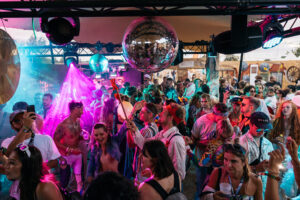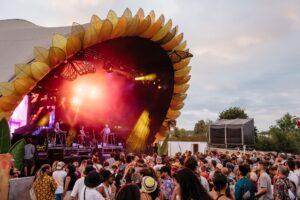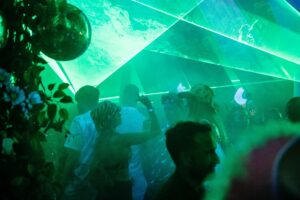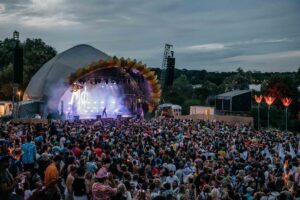 Floating atop a pristine lake and offering spectacular views of the site, is the incredible Pagoda stage, where this year's line-up includes rising talents Jasper Tygner, Rinse FM host Emerald, Meg Ward, and Raw Silk DJ's – expect an eclectic blend of house, breaks, disco and more. The Menendez Brothers, Waze, and Northern Irish export, Krystal Klear, whose selection of dance tunes has earned him a rep as an all-killer-no-filler DJ, are a taste of what's on offer across the weekend.
Inclusive/queer party crew HE.SHE.THEY. return to SGP to host their own stage. The event series, fashion, and record label know how to throw a party and SGP will be the latest date on their 5th anniversary world tour, which has already seen stops in New York, LA, and Barcelona. Bringing the party to the newly named Circus Maximus space will be a host of the best local and international talent, with the likes of BBC 6 Music's Jamz Supernova, Chloe Robinson b2b DJ ADHD, Heidi, Anna Wall and Tygapaw sure to raise the temperature.
Fresh from their recent collaborative work, SHERELLE and I. Jordan's big room heaters look set to tear up the dancefloor, while another genre-bending artist on board is Absolute, the electric icon who's built a reputation as a dynamic and fun selector. Faithless icon Sister Bliss will be joining the party for an epic Faithless DJ set, while rave legends Fabio & Grooverider will be bringing their immense back catalogues to the stage.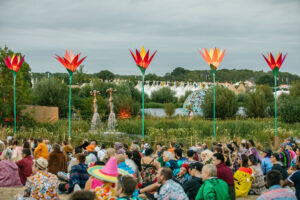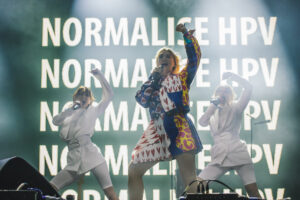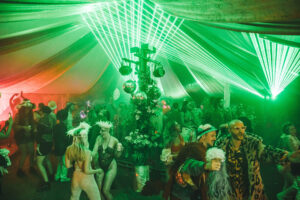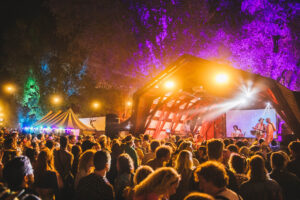 Infamous London collective, Feelings Worldwide, are an exciting addition to this year's Lake stage alongside Balamii Radio, who will be bringing the freshest talent from the underground, acclaimed drag king crew, Haus Of Don, and Dance System, who will be bringing an all-star line-up from his System Records imprint. Rounding out proceedings are the carnival sounds of Hotsteppas, UK crew, FIXX, and WA Radio – expect a kaleidoscope of sounds across the weekend, as the stage is set alight with some of the UK's most exciting crews and performers.
The line-up for this year's Avant Garden stage features the best live acts and DJ's including extra-terrestrial joymongers Henge, who are sure to bring their unique blend of rave and prog rock, alongside GRAMMY-winning producer Youth and his cosmic spaceship. As always, there's truly something for everyone's sonic palette, with the Brass Off, Reggae Roast Takeover, Balkan Business, Swing & Bass takeover, and of course, the Dynamite Disco.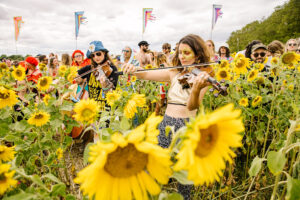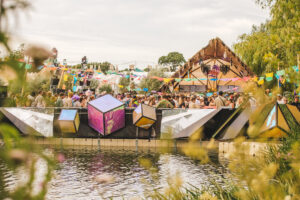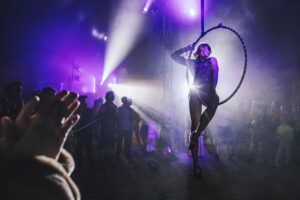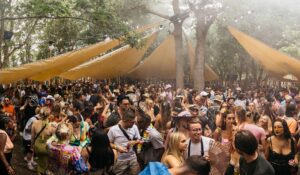 Magical party bus and SGP favourite, Ukukhapha, will be back in the garden with their usual mix of mayhem and solid party grooves, featuring the likes of Eddie Temple-Morris, rising DJ/producer Jay Carder, Axel Boy, and the balearic sounds of Henri Bergmann, amongst others. Fresh from the success of his acclaimed LP 'The Super Album', Patrice will be taking to the Skulloon stage alongside DJ/producer, and NTS host, Shy One, Nikki Chong, Storm Mollison, and Matrefakt for a weekend traversing the eclectic sounds of UKG, breaks, Disco, house and techno. This year's Noirganica stage delivers the freshest cuts in Amapiano, afrobeat, reggae, jungle, house, and hip hop, with a selection of the scene's best new talent, including a takeover from Lavilles' Cosmic House Party, a very special ladies' night, and Skank Out Sunday.
Secret Garden Party takes place the 20-23 July 2023, Near Huntingdon, Cambridgeshire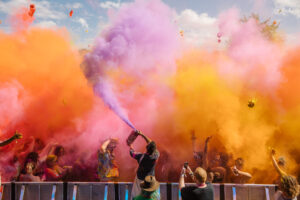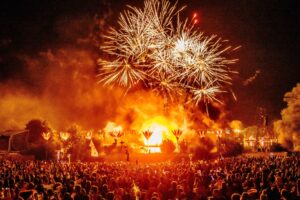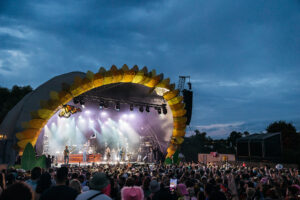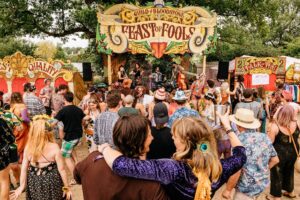 More info on Secret Garden Party:
The award-winning Secret Garden Party is a much-loved, intimate, and fiercely independent happening for the open-minded and curious. Set over 4 days of immersive entertainment and camping in a hedonistic woodland wonderland championing new and creative ideas. Situated in a beautiful location by a shimmering lake with an array of highly acclaimed live acts to a full DJ line-up, a multitude of games, parades, performances, secret happenings (and secret sets), thought-provoking art installations, delicious food and drink, outdoor swimming, stunning visual displays and so much more. It is all lovingly curated with meticulous attention to detail.
SGP transports 'gardeners' into a temporary magical parallel world – an escape to reality – in which they can reawaken a carefree sense of childish fun and playfulness. As ever, there will be the iconic paint fight and fireworks spectacle in the main arena, 2023 promises intergalactic space stations to suit all tastes. Fancy dress is strongly encouraged.
This garden-party-unhinged transports 'gardeners' into a temporary magical parallel world, an escape to reality reawakening a carefree sense of childish fun and playfulness with no clear line between on and off stage.
Secret Garden Party, a Social Enterprise, is dedicated to promoting equality, diversity and inclusion throughout its community: this is a party that really gives a shit.