On Saturday 9 July the EDGE café on Mill Road opened its doors for their first repair café, supported by Socius, Railpen and Cambridge Carbon Footprint. 
The event, part of series around the country, matches people who need items fixed, with people who like fixing items. The services of the volunteer fixers are free to those in attendance and visitors are able to learn from fixers how they can perform simple repairs and maintenance to their possessions, to better enable them to take on repairs themselves in the future and reduce unnecessary waste.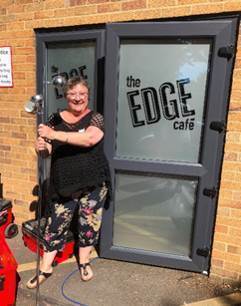 Socius and Railpen, the team behind the plans for a new sustainable development at nearby Devonshire Gardens, supported the event through its existing connections with the EDGE café and Cambridge Carbon Footprint; as part of its commitment to supporting sustainability in the local community.
Plans for Devonshire Gardens aim to create an impactful space with amenities and resources for all the community, including the existing neighbourhood as well as new residents and visitors. Included is a 'library of things' where people can borrow various household items such as; drills and other domestic tools, carpet cleaners, projectors and entertainment media, sewing machines. The system helps people save money, reduce waste and supporting a sharing, circular economy.
Doug Higgins, Project Director at Socius commented:
"The spirit of the repair café is exactly the type of ingenuity and community enterprise we support at Socius so we're excited to support the very first Cambridge repair café. One of the best things we can do to protect our planet is to reduce unnecessary consumption, and it was really encouraging to see so many members of the Mill Road community interested in the repair services that were available and connecting with the knowledgeable repairers. We look forward to help facilitate further repair cafes in the future."
Nicole Barton, Volunteer and Events Organiser at Cambridge Carbon Footprint commented:
"The Cambridgeshire Repair Café Network would like to congratulate Gail and her team of brilliant volunteers who made The EDGE café's first Repair Café such a success. There were practical fixes on the usual printers, clocks, vacuum cleaners and lamps, but emotional ones too! One visitor who bought along clothes to be repaired beamed sharing that they felt 'there's such a wonderful sense of community at this event. I actually feel quite emotional coming here'."
EDGE café is a social enterprise which aims to provide a welcoming and supportive community space, with a vibrant café. Future repair cafes will be advertised here: https://cambridgecarbonfootprint.org/what-you-can-do/events/