Kellyvision, of Broad Street, Whittlesey, which has been serving the local community and surrounding areas since 1983, is fully open again after the recent coronavirus pandemic. All the staff have been overwhelmed by the loyalty that both old and new customers have shown to them and would like to say a huge 'THANK YOU' for their continuing support during this difficult time.
There is clear signage throughout the store regarding social distancing, together with hand sanitisers on entry and a request for face masks in line with government guidelines, so everyone who enters the store can feel relaxed and comfortable.
Kellyvision has always been known for their range of home appliances, such as televisions, cookers, washing machines, fridges and freezers, together with smaller items such as irons, toasters and kettles by Smeg, Bosch, Tefal and other leading brands. In fact, pretty much everything you could need for the domestic home. Delivery of items, many of which are held in stock, is prompt, and all delivery drivers are equipped with full PPE for everyone's safety. Gas and integrated appliance installations can also be arranged.
In 2017, Kellyvision ventured into Symphony kitchens, as director Lee Cochrane explained. 'A lot of customers are now making bigger investments in their own homes, rather than moving. New houses are smaller, and therefore customers want clever designs with integrated kitchen appliances to make the most of their space. Our kitchen appliance sales have grown vastly over the years, and it seemed a natural progression to offer a full kitchen design and installation service.'
Kellyvision meets the needs of their customers, whatever their budget. March-based fitter, Anthony Henson, is key to their expansion. Sales manager Matt Vail confirmed, 'He's a real asset; his work is well respected, and as well as kitchen fitting he is skilled in carpentry, tiling, home improvements and much more.'
The sleek kitchens complement the showroom's current stock of goods, which include brands such as Smeg, Bosch, Neff, Siemens and Hotpoint. But if you thought that buying local means you have to pay more, then you might be surprised. 'We're actually cheaper than most well-known high street retailers,' Lee explained. 'Not only that, we offer better customer care and more competitive warranties.'
So, if you are looking to upgrade your home, whether that's through purchasing a new television, cooker, fridge or a brand-new kitchen, pop into Kellyvision for personal and professional advice and service.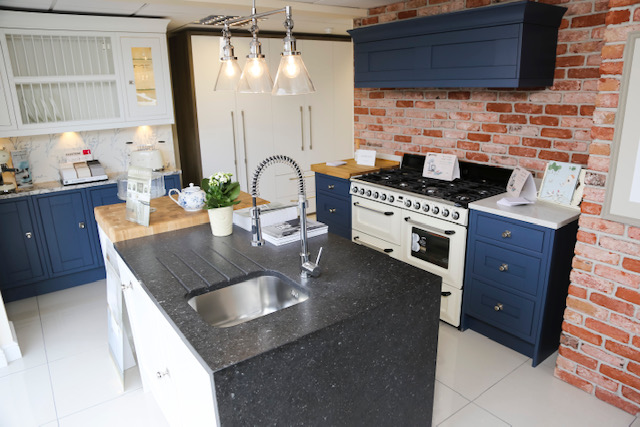 Kellyvision KCS Limited is on 26-28 Broad Street, Whittlesey, Peterborough PE7 1HA. Get in touch on 01733 208787, email sales@kellyvision-kcs.co.uk, or visit www.kellyvision-kcs.co.uk