Home-Start Cambridgeshire (HSC) supports parents with young children across Cambridgeshire. We support families through regular home visits or group support to deal with diverse issues such as:
isolation;
mental health needs;
postnatal illness;
multiple births;
disability;
early learning, language and literacy concerns;
bereavement; or
those who are finding parenting a struggle.
Trained volunteers provide practical and emotional support and help build a family's confidence, resilience and community connection.
Home-Start is a gateway to many other community services, such as local children's centres, neighbourhood activities, or more specialist services if required. We work in partnership with many of these service providers.
Our Vision at Home-Start is to see a society in which every parent has the support they need to give their children the best possible start in life.
Our Mission is to recruit, train and develop volunteers to support parents in their own homes and through peer support groups. We encourage parents as they grow in confidence, strengthen their relationships with their children, and widen their links with the local community.
Our Values
We offer families choice.
We work in partnership – with each other, with families and with other agencies.
We work in a spirit of openness, encouragement and enjoyment.
We are flexible and responsive to the needs of families.
Our motto is 'One parent helping another parent through a difficult time.'
Home-Start Cambridgeshire, because childhood can't wait.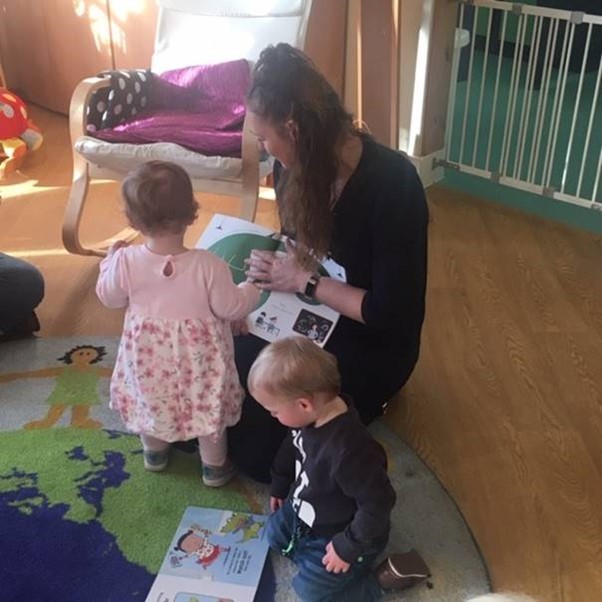 Family Story
Sitting in the garden with a nice ice-cold drink, watching the kids playing together, lots of laughter filling the air, is certainly something I will never take for granted, especially when a few years ago I wasn't so lucky.
Unfortunately, I was in an abusive relationship, suffering from emotional and sexual abuse. I had zero confidence, I was really struggling, and with two young children at home, I just couldn't cope. I felt like I was losing my mind. I was going to see psychiatrists and being diagnosed with personality disorders, as I wasn't being completely honest with them, only daring to say some of the truth through fear of the repercussions if I told it all. Those repercussions would come as abuse from my partner, who threatened that he would take the children from me.
I was always to and fro between the doctor and health visitor, changing medicationsto try and keep me sane. One day, at an appointment with a health visitor, she told me about Home-Start. She thought it would be a good idea for me to be referred to them to see if they could help.
It was a couple of weeks later when Home-Start contacted me. That's when I met Marney. She explained to me that I would have a volunteer who would come to the house once a week and that they would help me in areas that I suggested. I was later introduced to Becky who was to be my volunteer. I warmed to her fairly quickly and was made to feel at ease. Over time, with her visiting, I felt that I was able to open up and talk to her, eventually confiding in both Marney and Becky about things that were happening at home.
My confidence grew
Being able to confide in them, my confidence was slowly building, especially in being able to open up about the sexual abuse I was suffering. I found the strength to finally get up and walk away with my children and go to the police.
Almost three years on, as I sit here writing this, I am happy to say that I am still growing stronger each day. I have become independent, and I am working in a job that I love, supporting myself and my children. I had never imagined that would ever happen. There are still off days, but push through them, determined that what has happened will not define me.
One thing I can be sure of is that I wouldn't be sat here now without the help and support of Home-Start, Marney or Becky. I have so much to thank them for. They have given me and my children a new lease of life! For that I will eternally be grateful.
'Chatting to other mums and the Home-Start team has made me more confident as a mum. I've made friends (I was isolated before Group) and I've felt happier. The guest speakers were fabulous and really informative.' HSC Family
'Fantastic service and great staff. Home-Start can provide a lifeline to families who need that extra support but may not meet criteria for a family worker.' HSC Referrer
Volunteers and Supporters
Our volunteers and supporters remain central to Home-Start Cambridgeshire; it is no exaggeration to say that we couldn't do what we do without them.
Becoming a Home-Start Cambridgeshire volunteer is extremely rewarding. For example, perhaps you want to make a difference to the people around you or give something back to your community. develop new skills, or just meet new people.
Our volunteers are as varied as the families we support and come from all walks of life. Volunteers with parenting experience visit families in their own homes for two hours a week. They receive full training and have regular and on-going support from a Home-Start Cambridgeshire Coordinator.
'The recruitment process was welcoming, efficient, interesting, informative and enjoyable. They offered training on a wide range of issues and topics. Coordinator support was always excellent. There was always help and reassurance for any concerns. Being part of the Home-Start Team has been both a privilege and an absolute pleasure. Its effectiveness in helping families experiencing difficult times is so valuable – long may it continue to operate.' HSC Volunteer
"My volunteer was like Mary Poppins and came along when I needed support the most. She helped my normally clingy toddler become more independent, and she helped me realise the importance of "me time" guilt free. She also offered valuable listening support. We miss her!' HSC Family
Contact Home-Start Cambridgeshire:
Tel 01480 700242,
email office@homestartcambridgeshire.co.uk
website www.homestartcambridgeshire.co.uk.
The Local View is supporting Home-Start Cambridgeshire this Christmas by donating £3 for every Artsylaser Christmas Eve set sold – see the advert on this page.