On 22 January, I had the honour of visiting Ely Cathedral in Cambridgeshire, where I partook in the Monastic Tour. This involved a tour of the South Wing of Ely Cathedral as well as a tour around the monastic buildings. The majority of these have been standing since the 13th and 14th centuries.
A particularly striking element of the cathedral was Prior Crauden's chapel. This was a private chapel for the gentry who inhabited the grounds of the cathedral (now inhabited by the Kings School students). Queen Philippa of Denmark, Norway and Sweden, the daughter of King Henry IV of England, also used it. Within the chapel, you can see several church kneelers. These demonstrate the various members of nobility that have visited and used the chapel, including Queen Philippa.
Back then, there was a wooden walkway, connecting what is now the residence of the alumni at Queen's college to the private chapel. Astoundingly, the walkway survived from the queen's visits in the 14th and 15th century to the Victorian era. At this point it was taken down as it was beginning to show signs of instability.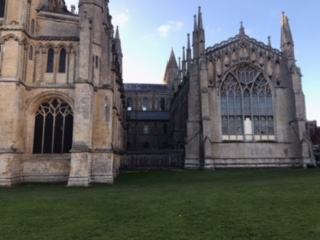 Henry VIII's reign
During the reign of King Henry VIII, a particularly catastrophic moment in English history was the dissolution of the monasteries. This involved the requisition of substantial monastic land, as well as the closure of any monastery that received less than £200 a year as part of its income. This was to distance England from the influence of Roman Catholicism. In 1539, Henry dissolved Ely monastery and cathedral and destroyed the majority of the communal buildings on site. Additionally, several gargoyles and statues depicting the Pope were vandalized and later destroyed.
In 1541 the cathedral reopened under the name of The Cathedral Church of the Holy and Undivided Trinity at Ely. The first Church of England (Anglican) bishop was introduced in 1534. At this point the monastic lands that had been confiscated were handed to the Dean and resident Canons. The school on site was renamed as The King's School, and it still stands today.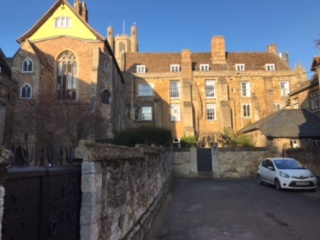 Treasured throughout history
Part of the charm surrounding Ely Cathedral comes from its sheer size, as well as the number of conserved and reconstructed monastic buildings. These are some of the oldest in England. It is a real privilege to see such a huge venue of technicolour. Visitors can take in its gentle nature and hundreds of years' worth of history.
The 13th and 14th centuries seem so far removed from what we know now. But the existence of this extraordinary building demonstrates that people have stood in our position hundreds of times and marvelled at the sheer historical richness of such a building. This was notably so in the Victorian era, when people were endeavouring to preserve the cathedral's ancient history.
This is a building that will astound and surprise you, and one that people will be revisiting for years to come.
Images and Words by Harvey Moorhouse