As Autumn draws in and we prepare ourselves for some darker winter evenings, pick up a crochet hook and crochet your way to better wellbeing.
I came across crochet at a time in my life when it was clear that I needed to slow down. I picked up a magazine and tried to make a Mexican mouse wearing a sombrero – which ended up looking more like an elephant that had been shot by a poacher.
Months passed, and I didn't pick up my hook again until January this year, as a way of keeping entertained during our global lockdown crisis. I soon discovered that crochet was not only a great way to keep busy, but a big stress reliever too!
Despite worries about the pandemic, when immersed in my new creative hobby I experienced less anxiety and was more able to focus on the present moment, pushing my worries to the back of my mind.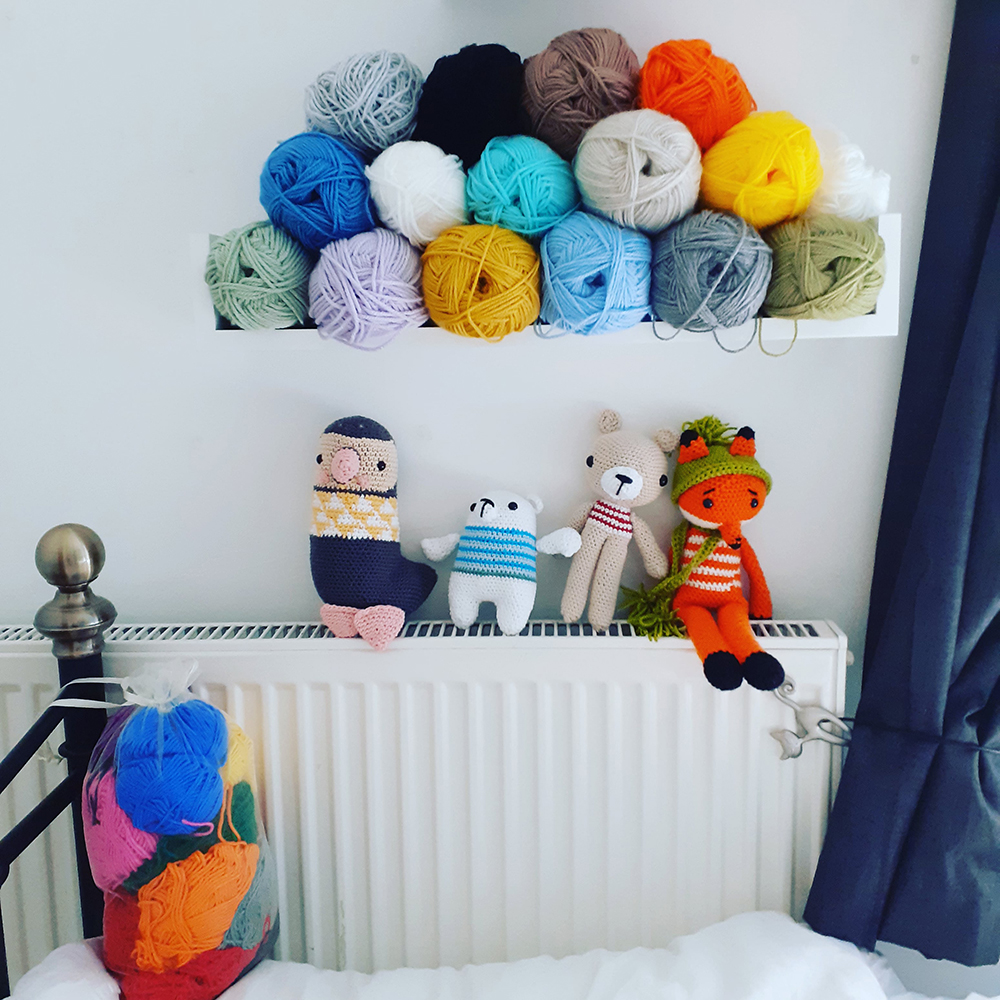 How does crochet benefit our wellbeing?
It turns out there's actually a number of scientifically backed ways in which crochet can keep our minds in top shape.
Repetitive movements, such as those seen in crochet, trigger the release of serotonin – the happy hormone – in our brains, while at the same time reducing levels of the stress hormone cortisol. This leaves us with an improved mood and sense of calm.


Bilateral hand movements engage both sides of our brain, giving it an extra tough workout. We become so focused on the task that we are less able to pay attention to other issues. In this way, crochet can be the ultimate distraction from daily stressors.


Our brains love novelty and sensory stimulation from the array of textures, beautiful colours and soft fibres we use when we crochet. These are visually appealing and help to boost our mood.


The accomplishment of finishing a task causes our brains to shower us with a rush of endorphins, boosting our sense of self-confidence. Crafting can also provide a sense of purpose – a key indicator of longevity.


Regular crochet practice promotes relaxation, helping to lower heart rate and blood pressure and putting the brain into an essentially meditative state. This allows us to pause, refocus, and soothe ourselves.


There's a fair bit of maths involved in counting stitches and working through complex patterns, so it's no surprise that crochet can sharpen the mind and help to stave off neurological diseases such as dementia.
And, let's not forget – it's fun!
Getting Started
Having watched several YouTube videos and read a handful of magazines on the subject, I grasped how to hold the crochet hook correctly, select the appropriate size and weight of yarn, ensure my work was even using a stitch marker, and fathom the difference between US and UK terminology.
First came the animals: cats, hippos, rabbits, polar bears, and even a highland cow – still one of my most prized possessions. With just a few basic techniques, I graduated on to making dolls and other small characters known as amigurumi – a traditional Japanese art which literally translates as 'small stuffed yarn creatures'.
Soon I found that choosing and buying new yarn for a project was almost as addictive as the crochet itself. The choice was overwhelming. There are thousands of different colours, textures, patterns and crochet stitches to choose from. It didn't take long for my room to become filled with balls of bright new cottons, bundles of acrylic, and skeins of wool.
To warrant splashing out on all these new materials, I decided I needed an even more ambitious project. Blankets and throws – also known as afghans – were my next endeavour. Although these may take a little longer to make, the sense of accomplishment in creating a new cosy wrap or throw for the bed or sofa always puts a smile on my face. Crocheting blankets is also a great way to zone out and relax without having to think too much about stitch counts.
What can I make?
Whether you want to create homemade gifts for loved ones, set up your own online business, or simply need a relaxing new hobby, crochet lends itself to a wide range of 'makes'. Stuffed toys, hats, scarves, socks, bespoke clothing, blankets, throws, cushion covers or wall hangings – the possibilities are limited only by your imagination. Crochet can even be combined with other crafts to create upcycled or repurposed shoes and clothing.

You can access plenty of free patterns online or inside the pages of leading crochet magazines. If you prefer a project book, Amazon is full of inspiration, with unique designs and patterns from around the world. Once you've tried a few, why not design your own little creations?
Where do I start?
Most newbies begin with the traditional granny square – and although this may conjure up images of faded white lacy numbers and netted curtains, nothing could be further from the truth. Crochet has been transformed into a modern-day craft for all ages and abilities, and just a few clicks on top crafting website etsy.com demonstrates just how in demand these patterns and creations still are.
There's also a huge online crochet community presence, where you can source new ideas and inspiration from like-minded individuals. Get even more involved by visiting a local crochet group, workshop or craft show (although these may be virtual for the time being!)
Happy Crafting!
WORDS and PHOTOS Leanne Hyland
This article has been reproduced by courtesy of The Fens magazine. Click here to view more of their articles.