Back in 2020, the environmental charity PECT challenged the social enterprise Up The Garden Bath to transform an underused area of green space into a community garden for Peterborough. Little did they realise the true extent of the challenge, especially when combined with global pandemic restrictions!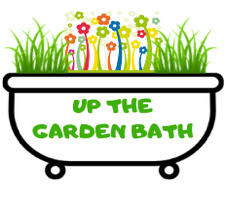 "We were originally asked if we could create a dedicated growing area for community groups and schools using only recycled, unwanted, and donated materials," explains Dave Poulton, Founder of Up The Garden Bath. "We wanted to prove that – with a little creativity, imagination and a collaborative approach – gardening can be accessible and affordable for everyone."
He continues: "The challenge was made harder by Covid-19 restrictions, which meant getting hold of materials was trickier and limited the number of volunteers allowed on-site. It even put the project temporarily on hold at certain times, due to national and regional lockdowns – but we are now nearing the end of the project and are enormously proud of how it has turned out."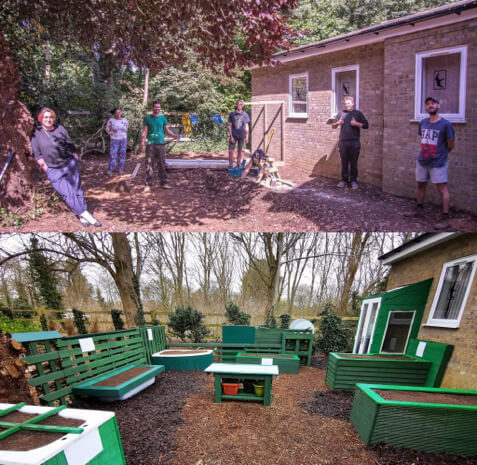 A Community Garden for Peterborough
The garden has been created in the west of Peterborough, near Ferry Meadows, at PECT's charity headquarters. The long-term plan is to use the area to grow produce, host educational workshops for local schoolchildren and community groups, and attract wildlife.
Since work started, the site is now home to innovative vertical planters, making the most of the available space alongside bathtub planters. The planters create growing areas at a height easily accessible for all volunteers and children.
Stuart Dawks, Director of Operations at PECT, said: "Our charity is a grassroots organisation that educates, inspires, and motivates individuals and organisations to change their behaviour to deliver a positive environmental impact. We really wanted to demonstrate how unwanted materials can be given a new lease of life and become useful, rather than just being discarded and sent to landfill."
The organisation approached Up The Garden Bath in spring 2020 about transforming the area, knowing the social enterprise's reputation for taking old and discarded materials and upcycling them into ready-made garden planters and accessories.
Stuart continues: "The global pandemic has created huge challenges for completing our community garden project, but we feel now – more than ever before – that outdoor education and connecting people to their natural environment will be incredibly important. We hope to be able to launch our first learning workshops in the garden this summer and soon fill the planters with a wide variety of fruit, vegetables and pollinator-friendly flowers."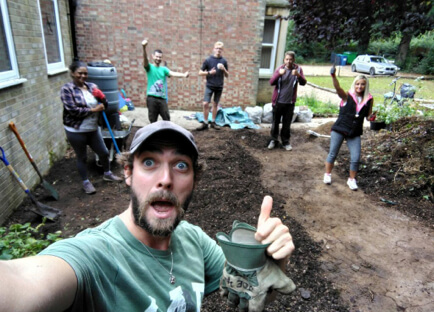 Volunteers
Throughout its completion, the project was helped by 19 amazing volunteers, 18 local businesses, and five community organisations, who all assisted with developing the space.
Dave continues: "We want to say a massive thank you to all the local businesses and residents who got involved and helped reduce waste by donating unwanted materials that would otherwise have ended up in landfill. We have proven that through collaboration and teamwork – even in a socially-distanced world – anything can be achieved!"
To contact Up The Garden Bath, call 07790 639970, email info@upthegardenbath.co.uk or visit www.upthegardenbath.co.uk.
For further details about PECT and to enquire about the potential for educational workshops on the site, call 01733 568408 (ext: 314), email education@pect.org.uk or take a look at the website www.pect.org.uk.