The Lieutenancy of Cambridgeshire, in partnership with key organisations across the county, has launched the first ever Cambridgeshire County Day, taking place on Thursday 23 June 2022 at the July Course, Newmarket, Cambridgeshire.
Cambridgeshire County Day, which will be open to all communities, faiths and cultures that live within the county, will showcase the very best from the Cambridgeshire business, charity, community and public sectors.
The Day will seek to inspire future generations with an unrivalled display of innovation, ambition, commitment and passion to encourage them to be the best they can be and connect them with future opportunities, while also showcasing key achievements in Cambridgeshire during the 70 years of Her Majesty The Queen's reign.
In 2022, HM The Queen will become the first British Monarch to celebrate a Platinum Jubilee, 70 years of service, having acceded to the throne on 6 February 1952 at just 25 years of age. There will be year-long Platinum Jubilee celebrations throughout the United Kingdom, the Commonwealth and around the world as communities and people come together to celebrate The Queen's historic reign.
The Lord-Lieutenant of Cambridgeshire, Mrs Julie Spence OBE QPM, Her Majesty The Queen's representative in the county, comments: "I am delighted to announce the launch of Cambridgeshire County Day, a key part of The Platinum Jubilee Celebrations. This is an unmissable opportunity to bring the county together, celebrate all that makes Cambridgeshire so unique, and to inspire the next generation while also reflecting on our amazing progress over the last 70 years."
Chairman of the Organising Committee, Chris Parkhouse, Deputy Lieutenant of Cambridgeshire says: "As well as providing a fantastic experience for businesses, charities and individuals, the event will raise essential funds for the new Regional Children's Hospital; we are currently the only region without such a facility, so it is desperately needed. We also hope to raise funds for the Cambridgeshire Community Foundation Lord-Lieutenant's Fund, established to support those with less means to fully take part in county life."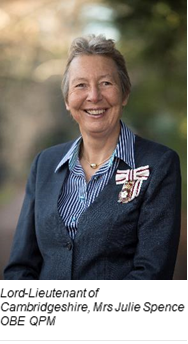 Alongside showcasing the very best from Cambridgeshire, there will be the opportunity to: network, enjoy hospitality; watch and listen to demonstrations, music and theatre performances; attend a Garden Party; and be part of an exciting day of racing, among other activities for all to get involved with.