Virtual assistant Heidi Setchfield of Setchfield VA Services is the winner of the East Midlands England VA of the Year 2020 at the UK VA Awards 2020, a prestigious awards ceremony within the sector.
The first UK VA Awards were held in 2007, and since then the VA sector has gone from strength to strength. The growth in self-employment and entrepreneurship has fuelled a growing need for VAs. Freelancers, coaches, consultants, and other small businesses often need support without the fixed cost of hiring an assistant.
Heidi said, 'As I am sure you can understand, I was absolutely over the moon to have achieved this recognition. I feel honoured to have been recognised in the East Midlands VA of the year regional category. I was completely amazed when I received the news and am still in shock that I am a regional winner. While I appreciate this is a regional award, it is still such a privilege to have been recognised at a local level as a VA Award Winner.'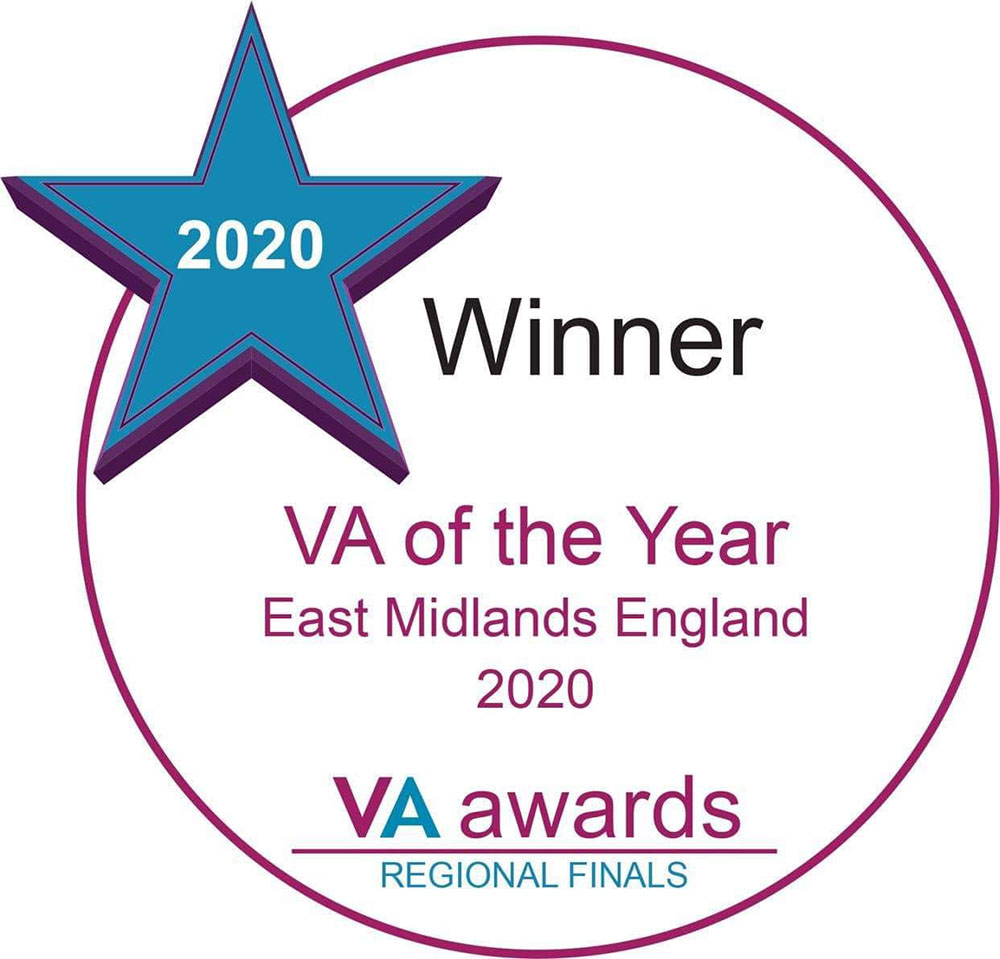 Help you can trust
'Small businesses often need an extra pair of hands they can trust,' Heidi says. 'They want to focus on delivering their core services and generating sales rather than admin. Sometimes, of course, it's just that some everyday tasks are time-consuming or even a bit boring for a business owner or entrepreneur.
'A good VA frees their clients up from such tasks. We let them get on with other things, knowing that everything they entrust to the VA will be done efficiently and without delay.'
Maximising your customer-facing time
Setchfield VA Services supports clients across multiple sectors. Examples include life and business coaches and businesses in the health and wellness industries.
Heidi explains why businesses like this are especially embracing VA services. 'These are people who need to spend as much time as possible with customers. It's what they are all about, and it's how they generate revenue.
'I make sure that things run smoothly behind the scenes. That can be anything from booking appointments and making travel arrangements, to research and typing. This enables my clients to maximise their customer-facing time, and therefore turnover and growth for their business.'
Discover how Heidi can help you
This award joins the 'Highly Commended' accolade that Heidi won in the Peterborough Small Business Awards in 2018. That was especially welcome as it came just a few months after Heidi had gone it alone as a virtual assistant, after spending 20 years as a senior PA.
Reflecting the fact that using a VA is still an unknown step for many people, Heidi is inviting businesses to book a discovery call to explore whether a VA is right for them. You can find more information about the service is at setchfieldvaservices.com and contact Heidi on 07843 741667.